The whole Goshopia team is convinced that sustainability is a lifestyle that is here to stay. Therefore, we would like to share our list of must-read books about sustainable fashion we love most. These book authors are researches, educators, activists, directors and overall sustainable fashion passionated souls.
You may think that slow fashion is a new trend. The truth is that fashion started this way and for many years it stayed like this. Then, globalization came by and really fast, found its place in all industries. The fashion industry was not an exception. According to Lucy Siegle in To die for. Is fashion wearing out the world? Every year around eighty billion garments are produced worldwide. It is true that we always will need to wear clothes. But it is also true that we do not need that many.
Clothing occupies a huge space, not only in your wardrobe but also in garbage bins and recycling station. "You have to think of clothes as something that is going to end up somewhere", says Gema Gómez, director of Slow Fashion Next. And, while recycling is a great option, it is not the solution. In Europe, "it would take 12 years to recycle 100 tons of clothes with the current technology". Between 80,000 and 150, 000 million pieces of clothing are sold worldwide every year, says Gómez. So the best and only way to enroll in sustainable and slow fashion is to buy less and better.
OUR SELECTION OF THE BEST SUSTAINABLE FASHION BOOKS
The authors of the books that we recommend below talk about the many angles of sustainable fashion. They offer us valuable information about the shadows of today´s fast-fashion world. However, through their lines, we can perceive a change proposal; the tangible possibility that another fashion is not only necessary but possible.
We love and recommend all these books but we couldn't put them in order of preference – so we took a chronological order. By the way, if you want to buy the books, just click on the images of the covers. We have placed there the links to facilitate you finding them. Some might have affiliate links.
Now, happy reading!!
ELIZABETH L. CLINE IN "THE CONSCIOUS CLOSET: THE REVOLUTIONARY GUIDE TO LOOKING GOOD WHILE DOING GOOD" (2019)
Do you want to keep up with the latest trends but at the same time, you care about the environment? This is the book you have been looking for. Cline will show you how to leverage your everyday fashion choices while changing the world by aiming a more ethical wardrobe. More than a style guide, you will find a call to action. What can be your contribution to transforming one of the most polluting industries on earth?
One of the best thing about this book is that Cline recognizes the power of the individual consumer. She is inviting us to make our clothes purchasing decisions going beyond the display window. Who made what I am willing to buy? Can I imagine the working conditions of the workers? Am I familiar with the natural resources used in each garment? What about reselling or renting items? Read the book in order to find the answer to these questions. It has been recently released so get your hand on it while is hot off the press.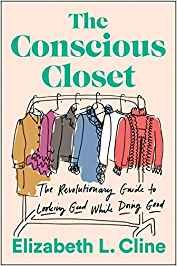 TYLER LITTLE IN "THE FUTURE OF FASHION: UNDERSTANDING SUSTAINABILITY IN THE FASHION INDUSTRY" (2018)
In 2015 the fashion industry consumed 79 billion cubic meters of water, emitted 1, 715 million tons of CO2, and produced 92 million tons of waste. Little invites us on a trip through the world of sustainable fashion. It starts with an analysis of the industry, which is a preview of "Why we need a change?" chapter. This is where we find heart-wrenching but also inspiring stories of people who have been affected by the fast fashion industry.
Let's not forget that the change is currently happening but we need to make it stronger and continuous so it can create a real impact. Throughout the book, we will discover general ideas and specific examples of companies that have joined the sustainable movement. However, we cannot expect that companies will be sustainable because it is the right thing to do. Sustainability, as part of the business operations, should improve the company´s efficiency which results in profit. We agree when Little says: "The sustainable fashion is dynamic, innovative, and revolutionary".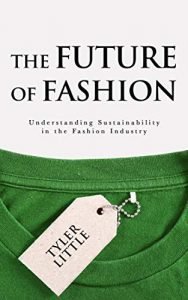 TARA BUTTON IN "A LIFE LESS THROWAWAY: THE LOST ART OF BUYING FOR LIFE" (2018)
"Our whole houses, our whole lives, have become stuffed full of things that let us down because these things are poorly made". The consequence is that we are compelled to buy more of them. The author shares her own experience of how she used to be a spendthrift. But change came, she realized that overconsumption comes with unhappiness and debt.
The book reveals how we are being manipulated to feel that our current possessions (and by extension ourselves) are inadequate. Of course, this drives us to constantly upgrade our wardrobes. Button truly believes that "A life less throwaway becomes simultaneously a simpler and richer life". BuyMeOnce, her company, suggests that living a life less throwaway does involve buying some things. But the key is buying only those items that will support a functioning and fulfilling life.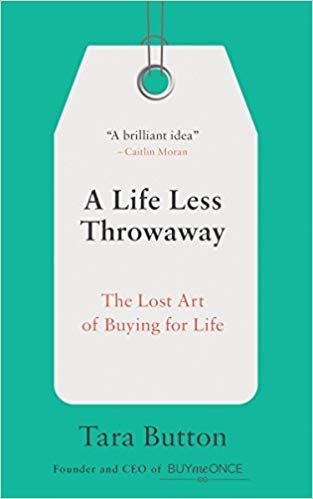 SAFIA MINNEY IN "SLAVE TO FASHION" (2017)
The global demand for cheap clothes has caused that over 35 million people are trapped in modern slavery nowadays.  Throughout "Slave to Fashion", Minney raises awareness among the consumers about the importance of fair trade and sustainable fashion. She also highlights that we all (governments, business leaders and consumers) should pursue a common goal: avoid unnecessary suffering to the people who produce our clothes and to our planet. It is known that Minney has helped to create standards to improve the lives of many people in the developing world. Now is the turn to help businesses to embrace sustainability and transparency along their supply chain and branding.
The book is full of resources that enable the common consumer to make an effective change. You will also find interviews with people (including children) caught in slavery all around the world. But also the opportunity to see how a shift in fashion can lead to workers empowerment. And the best part is that Minney proves that slave-free fashion is achievable. You know what they say: "If there is a will there is a way".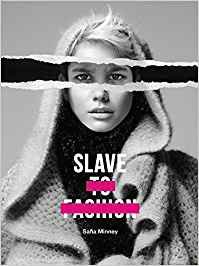 ANNIE GULLINGSRUD IN "FASHION FIBERS: DESIGNING FOR SUSTAINABILITY" (2017)
Annie Gullingsrud is the Director of the Textile and Apparel Sector at Cradle to Cradle (C2C) Products Innovation Institute, in the US. In designing fashion for the emerging circular economy, designers and labels need to have knowledge of fibers, process chemicals, fabrics, and the way they are used and later how they will end their life cycle. Even though some people might find the book lacks depth in the matter it is a great start for curious minds and fashion design students.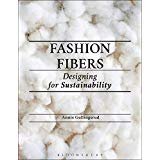 MAGDALENA SCHAFFRIN AND ELLEN KÖHRER IN "FASHION MADE FAIR: MODERN- INNOVATIVE- SUSTAINABLE" (2016)
This beautifully illustrated book showcases the work of today's designers whose creations are fashion-forward and sustainable, responsible, and ethical. Sustainability is in fashion right now and designers and conscious consumers are looking for products that are both beautiful and resource-efficient.
Vivienne Westwood, Patagonia, Umasan, Mud Jeans as brands and experts such as Bruno Pieters, Lily Cole, and Michael Braungart are part of this book.
SAFIA MINNEY IN "SLOW FASHION. AESTHETICS MEETS ETHICS" (2016)
The author considers the need for a better, fairer way to do fashion. Minney explains how each of us can be involved. She also talks about the new standards for business practice, which look at the social and environmental account, as well as its profitability. Many companies are stopping the so-called "greenwash", admitting they have a problem getting on with fixing it.
Minney recognizes that demanding greater transparency will promote better business practices and force companies to avoid modern slavery in their supply chains. At the same time, conscious consumerism must be enforced in order to slow down fast fashion. It is not a dream. Minney shares with the readers her journey as an ethical consumer, wearing clothes that had been made while respecting workers. She witnessed that building trusting long-term relationships, transparency, dialogue and collaboration is the key to shift into a restorative economy. When this happens, many things are possible.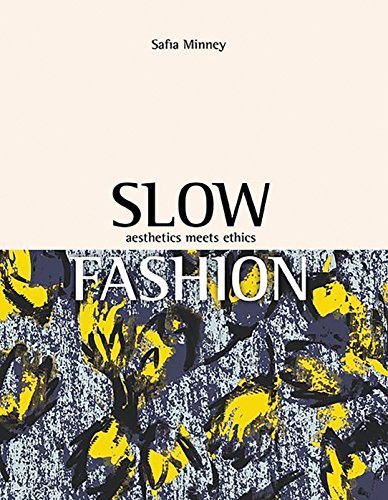 CLARE PRESS IN "WARDROBE CRISIS" (2016)
Witty fashion journalist Clare Press explores the history and ethics behind what we wear nowadays. Putting her insider status to good use (she is part of Vogue Australia), Press examines the entire fashion ecosystem, from sweatshops to haute couture, unearthing the roots of today's buy-and-discard culture. Super recommended! Oh! And she also hosts a podcast with the same name. Check it out on iTunes!
SUMMER EDWARDS IN "6 STEPS TO A SUSTAINABLE WARDROBE. THE ONLY STEP BY STEP GUIDE TO SUSTAINABLE FASHION" (2016)
"For those who have been harmed by the fashion supply chain, be you flora, fauna or human being. We have not forgotten you and, for you, we are building a better system", she says. Since ever, clothes have been the way we all express ourselves, our culture and our identity. However, in the modern world, everything we wear has an environmental and social impact that we cannot continue to ignore. Forced labor, child labor, endless working hours in not secure workplaces, exposure to toxic substances, water pollution, inequality, among many others.
We all wear clothes which means we all can do something to make positive changes. Substituting old shopping patterns for more eco-conscious products is not enough. This book will help you to consume in a sustainable way. It is a guide that will help you to change your behavior, desires, and habits. The result will be the creation of a truly sustainable wardrobe. Edwards shares six steps: 1) Understand your wardrobe habits. 2) De-cluttering your wardrobe. 3) Learn to live with less. 4) Wardrobe maintenance and repair. 5) Plan your wardrobe. 6) Know your sustainable options.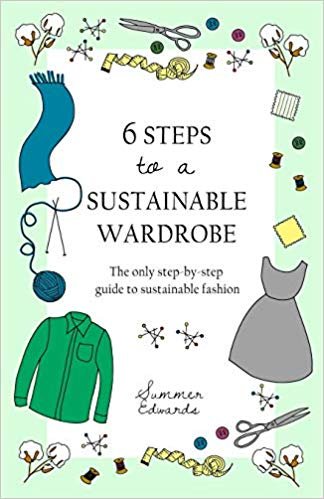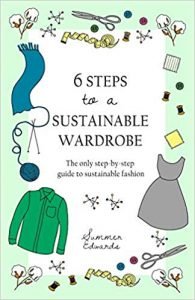 MICHAEL LAVERGNE IN " FIXING FASHION" (2015)
Michael Lavergne is an ethical supply chain professional 100% committed to sustainable fashion and the protection of labor, environmental and human rights in the developing world.
After the Rana Plaza collapse, it was about time we realized the real impacts of our consumer culture's addiction to disposable fashion. The book aims to explain how global apparel trade operates, and how the infamous race to the bottom has led to some of the worst social and environmental excesses. He also talks about "The rise of a new breed of entrepreneurs and stakeholders driving change and transparency across international supply chains"… I guess that it is us!… We want to drive change and bring it to you!
KATE BLACK IN "MAGNIFECO. YOUR HEAD TO TOE GUIDE TO ETHICAL FASHION AND NON-TOXIC BEAUTY" (2015)
After the incident of the Rana Plaza factory collapse in Bangladesh, the fashion industry has been going through a shift. Every day, more and more people are willing to reduce environmental damage, the use of toxic chemicals, and human rights abuse. Kate Black examines non-toxic beauty and ethical fashion. As a consumer, you will find recommendations to make better decisions. She also introduces the brands and designers who are taking a step forward to a more socially responsible path.
If you wonder how you can contribute to a more sustainable style, in this book you will find an answer through every category. Beauty, clothing, special occasions, outwear, footwear, etc. A guide for fashionists that will not contradict your values. Black facilitates your transition into a sustainable fashion by presenting you the leading players in the field.
TIMO RISSANEN AND HOLLY MCQUILLAN IN "ZERO WASTE FASHION DESIGN" (2015)
The inefficiencies of fashion are often masked, whether inadvertently or deliberately. The book addresses this inefficiency in fabric use by reframing fabric waste as an opportunity to explore another side of the industry. Zero waste fashion celebrates experimentation and the discovery of new forms.
The book offers strategies and easy-to-master zero waste techniques to help the reader to develop a unique style. You will find more than 20 exercises that will reinforce your understanding of the zero waste fashion design process. Without a doubt, a book that accompanies the readers to explore their creativity and transform ideas into unique garments. Zero waste fashion will help you to enhance your style and will welcome you to a more conscious scheme of fashion.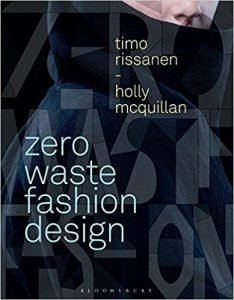 ALISON GWILT: A PRACTICAL GUIDE TO SUSTAINABLE FASHION"(2014)
Packed with full-color images from contributors such as Vivienne Westwood, Stella McCartney, Edun Oor People Tree, this book showcases different industry perspectives and shares some studio-based exercises.  The idea is to share how designers can reduce the negative impacts associated with the life cycle of fashion garments.
The guide is truly practical and offers an overview on garment design; sourcing and selecting fabrics and techniques; pattern making and toiling; garment construction; distribution; clothing care and maintenance; reuse and re-manufacture; and material recycling; and it also covers the following sustainable design approaches: design for empathy; using mono materials; zero waste techniques; design for durability; engaging with local communities; design for need; reducing laundering; design for repair; upcycling; and design for closed-loop systems.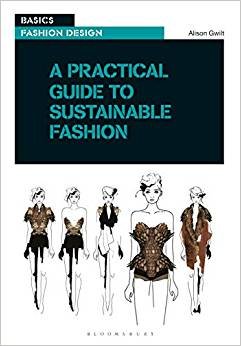 LUCY SIEGLE IN "WE ARE WHAT WE WEAR: UNRAVELLING FAST FASHION AND THE COLLAPSE OF RANA PLAZA" (2014)
April 24th, 2013. More than 1,100 people died in a complex that comprised five factories where hundreds of thousands of garments were produced each month. These clothes were like the ones found in store windows on any street in a western city. The news about the Rana Plaza collapse were everywhere. Siegle, after her face-to-face with the human side of the fashion supply chain, urges a reform in this industry. When the Rana Plaza building fell, there was only one possible question to make. What are we going to do about it? This book explores the efforts to generate some good from the tragedy, and it recognizes the required efforts to bring change to the fashion world.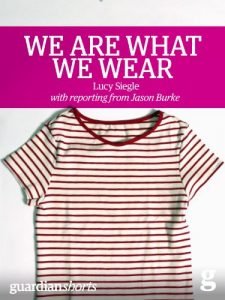 TANSY E. HOSKINS IN "STITCHED UP: THE ANTI-CAPITALIST BOOK OF FASHION" (2014)
A more theoretical book which explores consumerism, class, and advertising revealing who benefits from the exploitation of others. Stitched Up is an examination of contemporary culture and the awful priorities of capitalism. It is an interesting opinion about the interconnection between fashion and socio-economic structures. Free-market, racism, sexism, global inequality, and environmental hazards. The book is a wake-up call for radical change and a reorganization of society.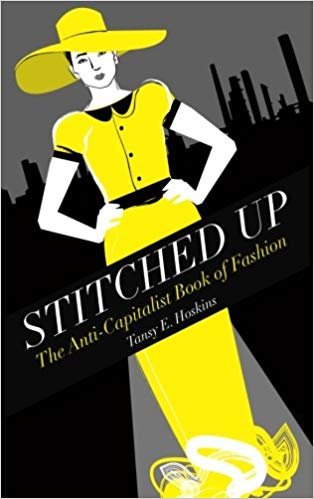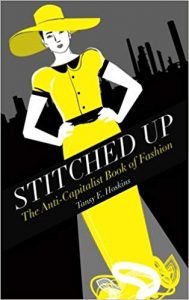 GRETA EAGAN IN "WEAR NO EVIL: HOW TO CHANGE THE WORLD WITH YOUR WARDROBE" (2014)
A guide for fashion lovers, who are willing to make their style a more conscious and informed choice. At Goshopia, we understand that wearing sustainable fashion does not mean that you have to lose your style. We love this book because it offers valuable insight into alternative materials and brands.
It also shows you how to dress and shine for different occasions, including glamorous social events. The first step towards a more honest fashion is a transition into a greener and a more conscious wardrobe. 1) Buy secondhand when possible. 2) Support organic producers. 3) Purchase recycled material garments. The book offers a growing movement towards consumer empowerment and commercial transparency.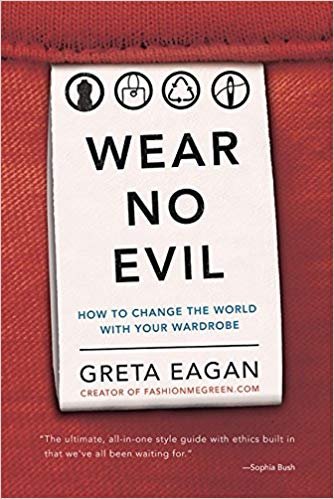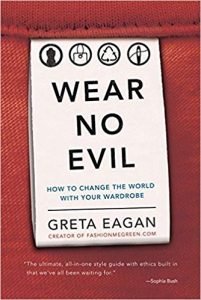 KATE FLETCHER IN "SUSTAINABLE FASHION AND TEXTILES. DESIGN JOURNEYS" (2014)
We can see that improvements have occurred; large corporations now know the importance of brand reputation. And today it is not a surprise to find sustainable fashion at fashion weeks. Eco Fashion is now part of different creative, industrial, academic and political agendas. In the preface of this book, you will find phrases like: "sustainability in fashion and textiles fosters ecological integrity, social quality, and human flourishing through products, action, relationships, and practices of use".
Fletcher explores sustainability issues in fashion and textiles from the perspective of design. Design understood as a promoter of social change. The book brings together information about lifecycle sustainability impacts of fashion and textiles. It also shows practical alternatives, ecological concepts, and social innovation. The author considers the relationship between fashion and consumption and explores the possibility of developing more resource-efficient products. You will find innovative ways of thinking about fabric and garment; all based on sustainability values.
SASS BROWN IN "REFASHIONED. CUTTING-EDGE CLOTHING FROM UPCYCLED MATERIALS" (2013)
"Choosing faster and cheaper can equate to unwitting disregard for humanity and the environment. It is often much easier to consume what is convenient without thinking too much about the larger impact or consequences of our choices. Particularly the continuing use of toxic chemicals, haphazard disposal of these wastes, unprotected workers and unsafe practices."  A great foreword.
There is more than enough stuff in the world already. Herein lies the value of recycled and upcycled design. It employs materials that have already been produced, says Brown. The book is a revelation of the hidden price tag of fast fashion and, at the same time, it is a great way to promote conscious consumerism. An interesting data: clothing, textiles and associated support industries employ one-sixth of the world´s population. Imagine the amount of amazing power to change the world if all these people focus their efforts towards a more sustainable fashion.
ELIZABETH L. CLINE IN "OVERDRESSED: THE SHOCKINGLY HIGH COST OF CHEAP FASHION" (2012)
The book is based on the travels of the author to China and Bangladesh. It explains the negative effects of disposable fashion on the environment, consumer behavior, and human rights. The good news is that the subject is already included in the curriculum at universities and high schools around the United States and Canada which is an excellent opportunity to spread healthier and more ecofriendly consumer patterns.
The way we dress has changed in recent years. Once crafted in domestic factories, 98% of the clothing in the US is made abroad. The newest trends at unprecedentedly low prices in almost all brands accelerate our pace of consumption. This is turning fashion into one of the most environmentally destructive industries on Earth, says Cline. One of the main problems is that we have lost the habit of repairing the clothes that we already own. Styles change fast and it is cheaper to buy more. However, most of the time we sacrifice quality.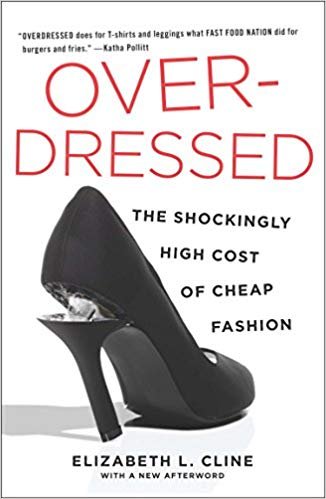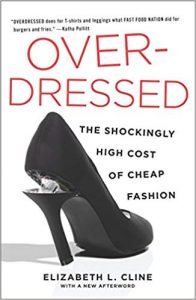 SAFIA MINNEY IN "NAKED FASHION: THE NEW SUSTAINABLE FASHION REVOLUTION" (2012)
An invitation to join the movement of consumers, entrepreneurs, and professionals who are willing to use their purchasing power and experience to make fashion more sustainable. It is a gathering of creative people (photographers, models, illustrators, actors, and journalist) talking about their different approaches to make fashion more sustainable.
The statistics showed in the book, let us think that there might be something wrong with the constant messages of "buy more", "check out the hot trends". Shopping, once a need, now is a hobby. Since we are having fun, we do not think about the consequences along the supply chain and the environment. Naked Fashion does not mean to stop buying. This would translate to the unemployment of many people who depend on a salary to help their family. But it does mean to reduce your consumption and make it more ethical.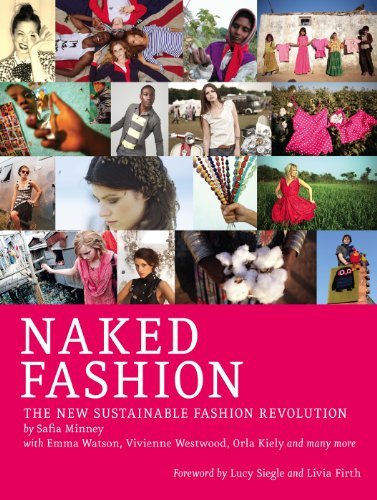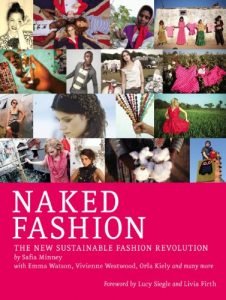 ALISON GWILT IN "SHAPING SUSTAINABLE FASHION: CHANGING THE WAY WE MAKE AND USE CLOTHES" (2012)
Gwilt explores the issues of fashion, sustainability and specifically the way in which fashion clothing is produced, used and discarded. Fashion relies on the fast and efficient manufacture of new seasonal trend-driven products for an identified consumer in a competitive marketplace.
The book brings to light sustainable strategies that are being employed to reduce the textile waste generated during the manufacture and use of garments. The author is willing to question the current methods of design practice and offers alternative scenarios. Innovation is the key to discover new solutions for a sustainable future.
Alison Gwilt explores the schemes that can engage the consumer to slow fashion consumption; contributing to reducing the amount of clothing in landfill waste. The fashion industry needs to positively respond to the view that developing garments at the best possible price is not the only way to conduct business.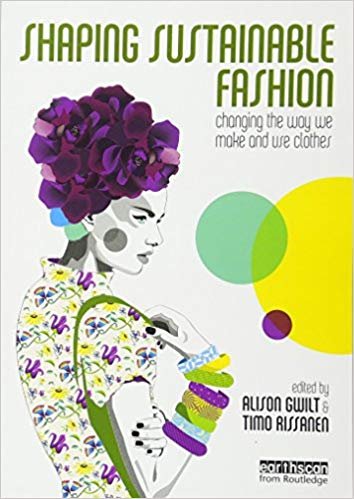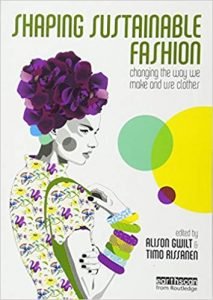 KATE FLETCHER AND LYNDA GROSE IN "FASHION AND SUSTAINABILITY: DESIGN FOR CHANGE" (2012)
A positive change towards a more sustainable word is needed. In order to do so, the authors analyze the lifecycle of textiles, which are the more innovative materials, and how can we help to reorganize production. For Fletcher and Grose, the clue is to sell and buy more individual units of clothing. In order to achieve this aim, we all must work together: designers, trendsetters, activist and consumers.  We must find the innovative, creative and eco-friendly paths of fashion. When we recognize them, we must share them in order to encourage and spread these practices.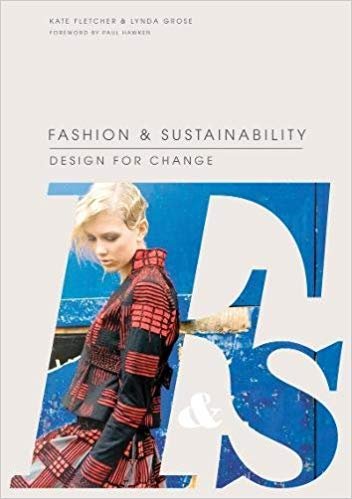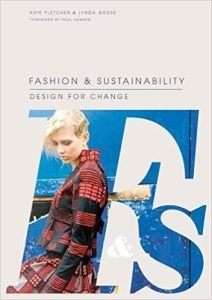 SANDY BLACK IN "THE SUSTAINABLE FASHION HANDBOOK" (2012)
Throughout the chapters, Black presents illustrated articles and essays by leading writers and thinkers of the sustainable fashion scene. The author also shares the future possible scenarios of both, if we do or we do not succeed in enacting radical change.
You will also find leading organizations involved in advising and promoting the benefits of sustainability worldwide. As well as statements from designers such as Stella McCartney, Ali Hewson, Issey Miyake, among others, who are willing to share their experience and endeavors. This book is packed with facts and ideas which can be helpful for professionals, students and anyone with an interest in the new paradigms of fashion.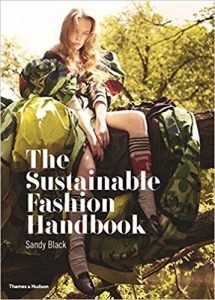 LUCY SIEGLE IN "TO DIE FOR. IS FASHION WEARING OUT THE WORLD?" (2011)
"It is simply untrue to say that all fashion is superficial, needless and stupid". The way we dress is fundamental to our self-expression.  The problem is the endless amount of garments in our wardrobes. Why are we buying more than ever if we know that this consumerist phenomenon leads to habitat loss, shrinking biodiversity and climate change? Workers are asking consumers to help because there is no way they can live out of the wages we are willing to pay while purchasing garments.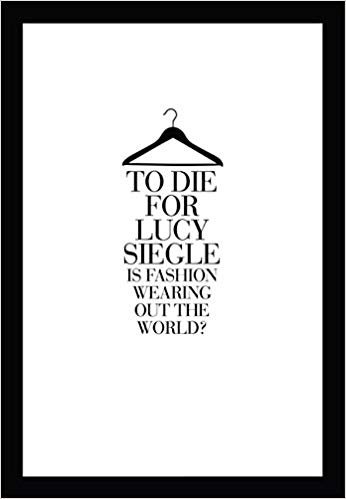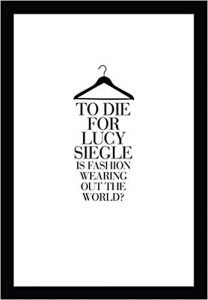 SASS BROWN IN "ECO FASHION" (2010)
Researcher, writer, and educator with a wide experience in ethical fashion, slow design, and heritage craft skills to recycling, reuse, and alternative business models. Her first book Eco Fashion was born with the aim, as she says, to show the best of ethical fashion, which can mean working with organic and natural materials, artisanship and craftsmanship, recycled materials and fibers, no waste design, local production, and Fair Trade.
Eco Fashion shows how international companies are making a difference with their well-designed apparel and accessories with a conscience. Brands are now aware that their business strategies should reflect their contribution to our planet and to the people. The industry is facing a paradigm shift that embraces business models in which sustainable is the norm.
As Katie Gannon from Living in an Eco-friendly Fashion says, there are masses of fashion designers who are leading industry trends that move towards a conscious and sustainable industry. Certainly, the fashion industry is far from being perfect.
There is a long way to go. However, every day the world of fashion comes closer to a more sustainable scenery. Do you want to join and share the message?
LIKED THIS ARTICLE AND WANT TO LEARN MORE?
Check out our other articles or our Glossary of sustainable fashion terms.