Are you ready for what we have prepared for you? We have selected the 50 best sustainable and ethical fashion quotes. We know sustainability is not a new concept but truth to be told until recently there were not too many people voicing their care for it. Now things are different.
The fashion industry is the second-largest pollutant after Oil & Gas. This terrible fact is something that's often overlooked as we tend to think it is not possible to change the actual status quo. The clothes that we wear play an important role in the environment. The future generations are in our hands and it is our responsibility to make a move towards this ongoing situation.
As we are running out of time and resources, it is up to us- individuals and organizations- who genuinely care, to try and change the general mindset. We have the power to educate, influence, inspire and motivate others through powerful words and try to change their perspective.
Before you scroll away into the digital black hole, we would like to share some brilliant quotes from celebrities and designers on fast, ethical and sustainable fashion which surely is thought-provoking. Oh! And please free free to share them and tell us which one is your favorite! On the side of the blog, you have all social buttons to share the 50 quotes all at once and over every image, you have Facebook, Pinterest and Twitter buttons to share that image only. Happy sharing!!!
GREAT QUOTES ON ETHICAL AND SUSTAINABLE FASHION
1. "Fast fashion is not free. Someone somewhere is paying" -Lucy Siegle.

Lucy Siegle is a journalist that has been concerned for the fast fashion pace and how unsustainable the whole fashion cycle is. Her book "Fashion to die for" is eye-opening, to say the least. Next time you go to the mall and you find amazingly cheap deals, think of this. If it is not you paying the cost, someone is paying it for you. And that someone is the garment workers in producing countries that work under unsafe working conditions for very low pay.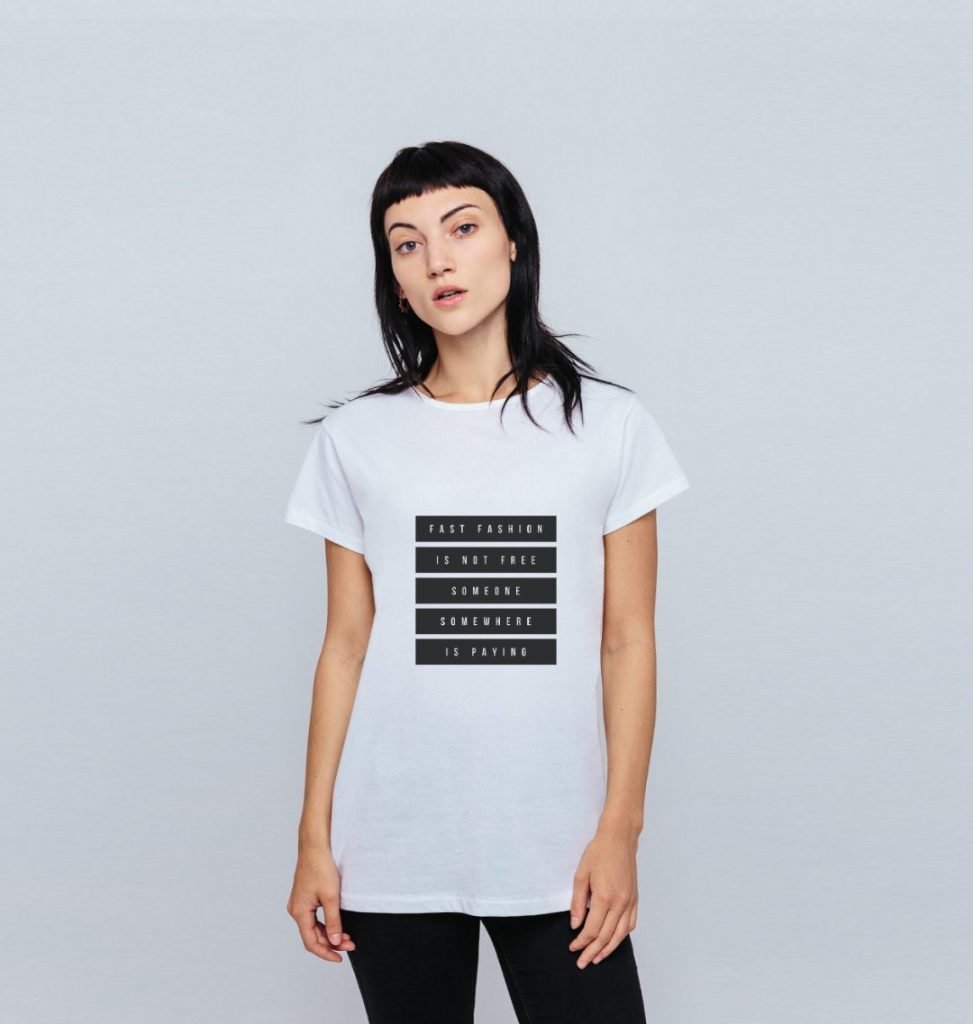 Get the T-shirts now!
Why? Because it is 100% organic cotton, made using the the energy of the sun and the wind, paying fair wages and using eco-friendly inks. On top of that there is a take back system so the cotton gets recycled. The price is pretty awesome too, because at The Conscious Fashion they want to make sustainable fashion affordable for every pocket.
Click the image to open the e-shop where you can find it.
All the t-shirts we recommend you here follow the principles of slow, ethical and sustainable fashion. So if you want to share your voice about the importance to stop or at least slow down fast fashion, fear not and buy with peace of mind.
Oh! And send us your pics!
2. "As consumers, we have so much power to change the world by just being careful in what we buy" -Emma Watson.

We can make a positive change by making informed choices. You are more powerful than what you think and don't only leave it in words. Act! Act now! As consumers, we have so much leverage. The single move of stop buying from the brands that are careless and buy from brands that are doing things the right way is how you cast your vote to what future you want to live in.
3."Buy less. Choose well. Make it last" -Vivienne Westwood.
At Chelsea Old Town Hall in October 2014 Westwood talked about free enterprise and the need to change our spending behavior and address the moral and natural issues of the fashion business. This is the philosophy behind Sustainable fashion and the Slow movement. Clothes are not disposable. Buy high-quality items that are built to last. Choose the styles that are true to your own style. Find your unique fashion voice. And take good care of your items so that they last longer.
4. "Clothes could have more meaning and longevity if we think less about owning the latest or cheapest thing and develop more of a relationship with the things we wear" -Elizabeth L. Cline.

If more of us got the lost skill of sewing and reconnected with the needleworkers and tailors in our community we could be our own fashion designers and always reinvent, personalize and totally feel the things we possess. If you don't have that skill, understand where the garment is coming from, what is the story behind, what was the inspiration of the designer… Garments deserve to tell beautiful stories.
5. "Fashion can be a universal player in protecting the planet" -Pharrell Williams- Musician and entrepreneur (National Geographic 2014)
.
This quote was also said by Simone Cipriani, an amazing man that created and manages the Ethical Fashion Initiative of the International Trade Centre, which is a joint agency of the United Nations and the WTO. Who said it first? It doesn't matter. This is a message that needs to be shared over and over.
Fashion plays a huge part in everybody's lives. You wear it every day and for some people, it's a status symbol or a statement of how much they have spent on clothes, or it's a means of expressing their identity and who they are. We express who we are and what are our values by what we choose to dress. So, what are your values? Is it money? Is it peace? or maybe Is it respect?
6. "Clothes are not going to change the world, the women who wear them will" -Anne Klein- Fashion designer.

She encourages women to embrace style but not to be defined by it. Find your own voice and share your message with the world.
7. "Cheap fashion is really far from that. It may be cheap in terms of the financial cost, but very expensive when it comes to the environment and the cost of human life" -Sass Brown- Fashion educator and author.

Sass also happened to be the first Dean of DIDI DXB. So, if you are in Dubai, love Design and Fashion, read her book. It is a must.
Two areas of the fast fashion industry cause great contamination. The first is mass production. Depleting and abusing natural resources with pesticides and dyes and harmful chemicals and low salaries to be able to produce a humungous amount of fashion items at ridiculous rates. The second happens when the lifecycle of the product finishes or the unsold items end up in landfill or burnt. So much effort for nothing. Cheap fashion is definitely not cheap at all. We are all paying for it.
8. "Realize the political power of your money and spend it with the brands you know are treating their workers and the environment in the best possible way" -Lily Cole- Model and entrepreneur (Harper's Bazaar 2014)

The message is that you are SUPER IMPORTANT. You are very powerful. And with great power comes great responsibility. Shop wisely. You can discover clothing that is both beneficial for the planet, for the workers and the society and that is just perfect for your style.
9. "There is no beauty in the finest cloth if it makes hunger and unhappiness" – Mahatma Gandhi.

Mahatma Gandhi was the first progressive figure on the planet, who made apparel and the production of a specific piece of material political. He stressed the moral inquiry of how things were created more than where they were delivered.
10. "When you wear vintage, you never have to worry about showing up in the same dress as someone else" – Jessica Alba.

So true! And there are some vintage pieces that are total pieces of art. They could be displayed in Museums.
11. "Don't be into trends. Don't make fashion own you, but you decide what you are, what you express by the way you dress and the way you live". -Gianni Versace- Fashion designer.

Through marketing, the fashion business tempts us to keep purchasing non stop new garments to stay in the loop of the most recent trends and have a feeling of belonging or coolness. Be aware that all those material wishes are a result of propaganda. It causes you to accept that your needs will only be fulfilled by buying their item. They make you feel out of trend and tempts you to purchase more clothes. Break free from the Trend slavery and follow your own style.
12. "Become an active citizen through your wardrobe". -Livia Firth- Founder and Creative Director of Eco-Age.

As new pieces come into our wardrobe consistently, other apparel winds up disposable. The toxic chemicals, dyes, and abuse of the natural resources utilized in garments terribly affect the Earth by degrading our soil, contaminating our air and hurting our wellbeing.
For things to change we need a lot of people doing small changes, better than a few people doing everything. No matter if it is not perfect, whatever you are helping with, it is greatly appreciated.
13. "Consumer demand can revolutionize the way fashion works as an industry. If everyone started to question the way we consume, we would see a radically different fashion paradigm". -Carry Somers, co-founder of Fashion Revolution (from Safia Minney's book 'Slow Fashion: aesthetic meets ethics')

14. "Care for your clothes like the good friends they are" -Joan Crawford.

15. "The fast-fashion business model is finite because the natural resources it uses will get scarcer and scarcer. If you want your company to be successful fifteen years from now, you have to address these issues today, even if your profits are a lot less as a result". -Livia Firth- Founder and Creative Director of Eco-Age.

16. "What if we started by slowing down and not consuming so much stuff, just because it's there and cheap and available. It's amazing how that process makes sense financially, it makes sense ethically, and it makes sense environmentally". -Andrew Morgan- Filmmaker and director.

17. "Ethical fashion is the recognition that there are human beings behind the clothes that we wear".

18. "Act as if what you're doing makes a difference. It does"-William James.

Because it does!
19. "Good design is a sustainable design". –Imran Amed- Founder and editor-in-chief of The Business of Fashion.

20."Fashion shouldn't cost the earth"- Environmental Audit Company.

21. "Cheap consumer products are sold to us as some grand achievement of globalization, but they've come at the price of middle-class jobs, craftsmanship and stable communities". -Elizabeth L. Cline- Author.

22. "As a designer, I like to work with fabrics that do not bleed. That is why I avoid all animal skins".—Stella McCartney- Fashion designer (Elle 2012).

23. "Demand quality not just in the products you buy, but in the life of the person who made it"-Orsola de Castro, designer and co-founder of Fashion Revolution.

Each time you spend cash on something, you're creating an impression about the sort of world you want to live in, so it's important to be cognizant about what that announcement is and make sure it is aligned with who we are and what we want.
24. "Waste isn't waste until we waste it" -Will.I.Am- Musician.

25. "No one wants to wear clothes that were made from someone's blood" -Amber Valetta- Model and entrepreneur (Vogue 2015).

Valletta is an environmentalist with an eye toward shaping up the industry, she explores fashion's impact on people and the environment.
26. "Buy what you need, love what you have".

27. "Your t-shirt should cost more than your coffee"

28. "Ethical should be the new normal".

29. "Why? Just because there is No Planet B" – Araceli Gallego, Founder of Goshopia.com.

30. "Every time you spend money, you´re casting a vote for the kind of world you want"-Anna Lappe.

31. "Do the best you can until you know better. Then, when you know better, do better"- Maya Angelou.

32. "Wear clothes that matter"- Solitaire Townsend.

33. "Fast fashion is like fast food. After the sugar rush, it just leaves a bad taste in your mouth"- Livia Firth.

34. "Call it eco-fashion if you like, I think it is just common sense"- Livia Firth.

35. "Sustainability is about the long run".

36. "The greatest threat to our planet is the belief that someone else will save it" -Robert Swan.

37. "Infinite growth of material consumption in a finite world is an impossibility".

38. "Ethics+ Aesthetics = Sustainable Fashion" | Sustainable Fashion + Online = Goshopia = Go+ Shop+Utopia

39. "We carry the story of the people who made our clothes"- Ali Hewson.

40. "You are what you wear".

41. "There is no such thing as "away". When we throw anything away it must go somewhere"- Annie Leonard.

42. "The difference between style and fashion is quality"- Giorgio Armani.

43. "Sustainable Fashion is not a trend but the future"- Antonia Böhlke.

If we really want to have a future! This quote brings to my mind the students of the "Fridays for Future" Movement. We can do better and we should do it now.
44. "Green is the new black".

and the other version…
45. "Ethical is the new black".

We love both too much to choose only one quote. Whether green or ethical is your new must-have, we are happy to have you here.
46. "We only have two choices: do nothing or do something"- Tony Kirwan.

So? Move out of the sofa and act now! And if you are still in the sofa.. at least, share this message with your friends.
47. "I´m for style. Fashions change too quickly"- Coco Chanel.

Coco said it first and sorry! She is super right.
48. "No more fashion victims"- Katharine Hamnett.

From one side or from the other of the supply chain… No more.
49. "It is better to have fewer things of quality than too much expendable junk"- Rachel Zoe.

Word! We couldn't agree more Rachel!
50. "We can´t just consume our way to a more sustainable world"- Ecowarriorprincess.

We love her blog and everything she does. She is one of our favorite bloggers in the world!
Did you enjoy these sustainable and ethical fashion quotes?
Then help us share the word! Join Dubai Fashion News and many other websites sharing the love! On the left side of the blog, you have all the social share buttons. If you want to share only one quote, hover over the image and Facebook, Twitter and Pinterest icons will appear. Feel free to share and send to your friends, family, and colleagues. The message is too important to be kept to ourselves.
Thanks for being part of the solution!!