It was a busy Thursday at the Burjuman Mall in the heart of Dubai. A fashion show including two catwalks and the appearance of the gorgeous Catriona Gray were expected and everybody wanted to have a good spot to watch or be as close as possible from the action. We were there. Our sustainable catwalk was opening the fashion show. It was our first time. Can you imagine the nerves? Let us share the experience with you.
THE PREPARATION
I found out that we were to showcase our sustainable clothing proposals just 5 days before the show. In our case, as we have a set of different designers, each with their own particular aesthetic and audience, we needed to create a show that would still look coherent and give room to each of them.
So, thanks to the help of stylist friends such as Abigail de Jong and Adela Alonso, we managed to have a beautiful transition from day to night using many of our designers' pieces.
THE CONCEPT: LIFE
We looked at how life goes, how it evolves and how we need to dress for every potential occasion. And of course, how to make it with pieces respecting our 3 S´s. Slow Fashion- Sustainable Fashion- Socially Responsible Brands. We transitioned from the total relaxed, casual set up to the more formal occasions. Same as our journey in life, we envisioned the catwalk.
For example, are you planning to meet some friends? Relax by the pool? or you need to go to the office? After that, maybe you have a special dinner with your loved one or even a special event. The Goshopia woman is a winner, empowered and confident. So the event might well be the Oscar´s or some other award ceremony!
No worries, whatever the occasion, we have your back!
Now enjoy the show and the backstage preparations. 
THE CATWALK ORGANIZERS
Xpedition Magazine was behind the catwalk show and Miss Universe appearance, so we have to thank the opportunity, and the fact that they got the models, the hair and makeup artists and the backstage prepared. The team was very helpful. Being newbies, we really appreciate their help!
AND THERE COMES CATRIONA!
After our show, the presenter did us some questions. Jino Joy, Corinne Joyce, Ferzin Irani and yours truly were there to try to address them and explain why sustainable fashion is important and why we need to become more conscious as consumers.
Baravia Fashion was the show after us. They showed gorgeous Haute couture-sque gowns. For them, it was not the first time as previously, they have donned amazing catwalks such as Arab Fashion Week.
And after the catwalk, there comes Catriona Gray. The reigning Miss Universe with her famous lava walk. The crowd roared. She is a very humble person but the people love her and she got emotional and thanked everyone for their unconditional support.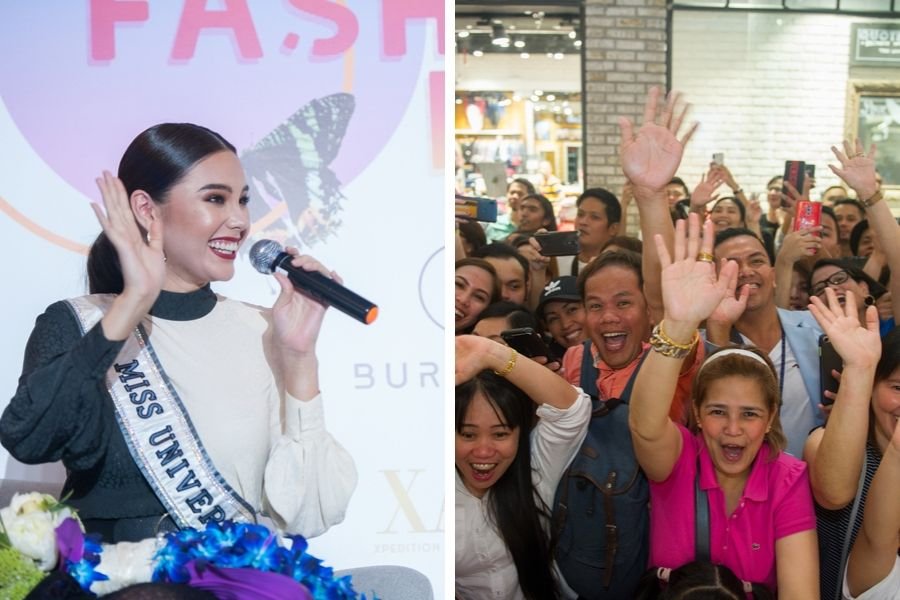 OUR HEARTFELT THANKS
It was an amazing afternoon that went well into the night. I can not thank enough all the people that came and helped us put this amazing fashion show together. The list is long, and I fear I might forget someone but all of you have my IMMENSE GRATITUDE!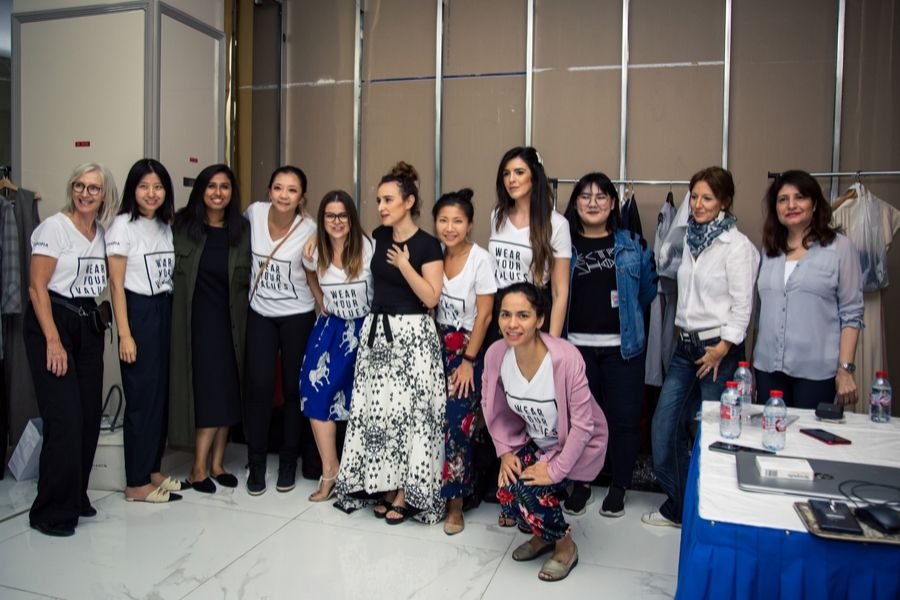 Special thanks to:
Adela Alonso- Abigail de Jong- Lorena de la Torre- Taiwen Chen- Angie Tenorio-Rebeca de la Torre-Silke Ahlden- Marta Garrido-Catherine Veneracion- Nadeerah Khaleed- Amit Jindani- Sabrina Jing Leng
…and to our amazing participating designers. All part of the Goshopia family!
Facil Blanco- Essa- Ferzin Irani- MyKaftan-Stone Grey- Richmond Works-Marie de la Roche-Vera Sukhinina- Farah Abu -Sheen-Elis Boots-Verbena Madrid
…and to the Models!
Robyn McMillan-Emily Jones- Chinweskduru- Zuzanna- Bongeka- Lauren Dunbar- Karolinka Kali- Miah Llanes- Elizabeth Shestova
I love you all!!
I can only tell you, I wish more opportunities like this come our way. The energy was amazing. For more sustainable catwalks to come our way! and For all of us to enjoy the same as we did with this one!
Cheers!
LIKED THIS ARTICLE?
We definitely did, but still, we want to recommend you read these other posts from our Blog.