I think we can all agree that a full closet can be extremely overwhelming and takes the will out of wanting to dress up. When going to work in the early morning we take the first thing we see and don't bother to look at the pile of clothes that fell down from the rack. When you catch yourself always wearing the same thing even though you have a closet full of clothes, it is time to edit it out. We came up with simple steps on how to get your closet neat and ensure it will stay like that with our organizing and editing tips.
Take everything out
This is the most important step in editing out your closet. We know that this is going to be time-consuming and probably overwhelming to see how many clothes you own, but it will be worth it in the end. Once you take everything out, create 3 piles: Donate, Sell, Keep. You probably own items that you didn't wear for a year, that don't fit, or you don't feel comfortable wearing, and that is okay. But do not throw out clothes that don't need to be thrown out. Here in the UAE, we have a lot of options on how you can get rid of clothes. Donate it to a charity or sell it on TheRealReal. When donating it you will help someone else in need and by reselling it you can get your money back, it's a win-win.
Remember, if you did not wear an item for over a year, you probably won't end up wearing it again. We know you have an emotional connection to some of the items, and that is okay, but we are also making space for new items that you will definitely love and wear. This is one of the most important organizing and editing tips as you need to be able to say goodbye to a few items in order to be able to love new items.
Color code
Color coding your items can be a lot of fun and this will also help the editing part of the closet. You might realize that you have 3 shirts that are similar in shade and you only need one, so get rid of the other two, you don't need them. This will help you go more in-depth and also help you discover if you still like those colors and patterns or if it is time for something new. Once you are done, and you will put everything in the closet, it will look really neat if you organize it by color and have a little rainbow there.
Invest in bins, labels, and hangers
When everything has its own space in a closet, it will be so much easier to keep the closet the way it is when you are done organizing and editing it. If you are more of a visual person and like to have everything hung, invest in velvet hangers that will make your closet look neater. If you have more shelf space, get fabric boxes and label them. There are a lot of videos on Youtube on how to fold your clothes efficiently in a box so it is easy to see what is there, take out, and also look at. Plus, if you have everything labeled, you will not throw things at places where they don't belong. This will also make dressing up so much easier.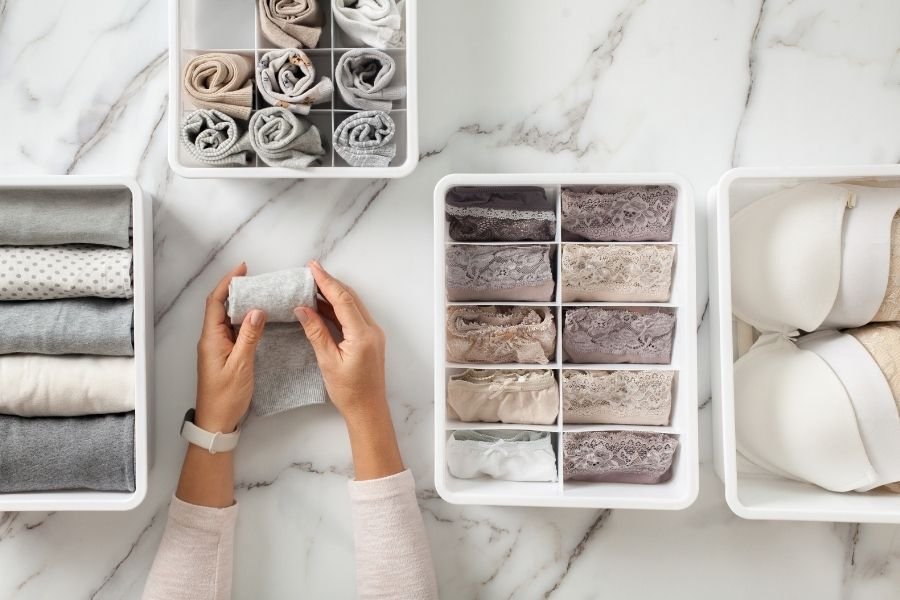 Create sections
Depending on your job and your daily schedule, organize your closet in sections. Some people prefer having work and fun sections. If the size of your closet allows it, hang all your work clothes in one section and fun clothes in the other section. When everything is hung it is easier to go through it and also put it back in place. If you have more shelves, organize them by different types of items. For example, jeans on one shelf, trousers and skirts on another. However, when putting different items on top and next to each other, make sure there is something that separates them and creates a wall. You don't want them to mix up and end up having one big pile of jeans on a shelf. This is where you need to use the bins and labels to ensure everything has its own place.
Maintain
This is the most difficult part when organizing and editing your closet. It is difficult to maintain a closet when you are dressing up in the morning and not like anything you put on. What happens then is that you throw an item into the closet because you don't have time to hang it or put it back. When this is the case, throw those items you tried on but didn't feel like wearing on a bed, so that when you come home, you will be forced to put them back in the closet. You can also try to plan your outfits the night before. This will help you be more relaxed in the morning and you won't make a mess the next morning.
We hope you enjoyed these organizing and editing tips on editing your closet. We believe it is an essential step towards having a sustainable closet, which is why we decided to dig deeper into it.
Liked this article?
We think you will enjoy these too.
HOW TO TRANSITION TO A SUSTAINABLE WARDROBE
HOW TO CREATE A SUSTAINABLE CLOSET