Stockholm recently canceled its Fashion week due to the climate crisis. This created much room for debate. Is the pollution created by a 4-5 day event justified? What is the real impact of the runway shows for designers? For the industry? For the environment? Can we shift to more sustainable fashion shows?
We have come up with a list of things you can do to make your next fashion event more eco-friendly. Whether it may be for a fashion week, a fashion show, a runway or even a photo shoot for your next look-book.
WHY IS IT IMPORTANT TO SWITCH TO MORE SUSTAINABLE CATWALKS?
Did you know that the fashion industry is said to be the second most polluting in the world? This along with the strains of climate change and global warming are having serious impacts on our planet.
We need to reduce our carbon footprint and we need to do it quickly. So what better place to start than at Fashion Week? Currently, it's probably not the epitome of sustainability. An approximately 17-minute show planned months in advance, with high energy usage for grand sets, and more than 200,000 invitations are definitely going to be leaving some sort of a carbon footprint.
Not to mention the emissions of planes and cars required to get people to the shows. With the industry's interest in the comeback of slow fashion and sustainability, the creation of a completely carbon neutral Fashion Week is not far away.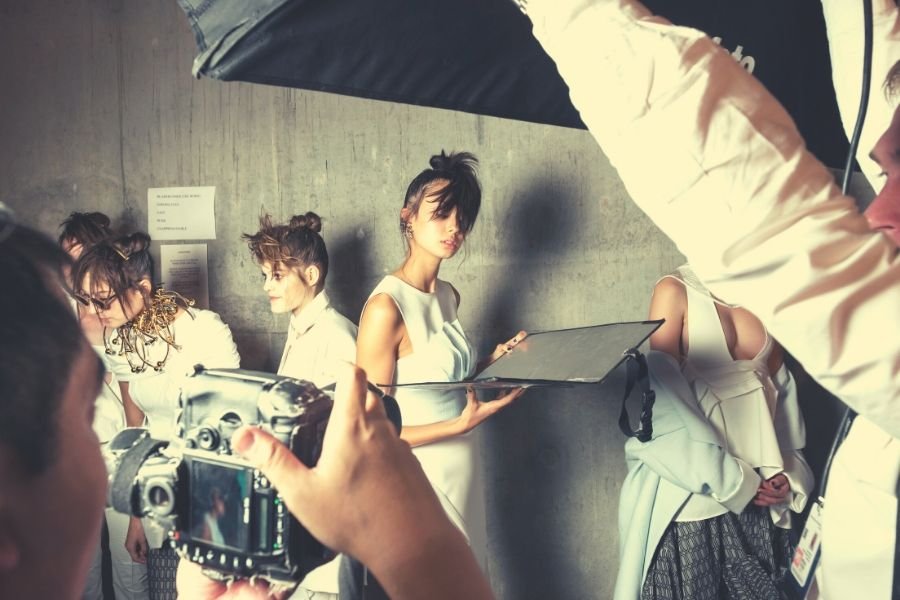 SETTING UP A GOOD EXAMPLE…
Some of the biggest brands in the industry are beginning to think about their supply chains and how to make their runway shows as environmentally friendly and efficient as possible. Let's start in New York where one of the "Big Four" Fashion Weeks is held.
Gabriela Hearst, a New York-based designer, is planning on creating New York's first entirely carbon neutral show for her Spring Summer 2020 collection. By only booking models who don't need to fly in, Hearst is already managing to reduce emissions, waste, energy, and pollution that a few planes flying around would create.
This doesn't necessarily mean there will be absolutely no carbon emissions at all, but the key idea is to neutralize environmental costs. How?- You might be wondering. Besides using local models, Hearst will be offsetting emissions created in show production by donating energy costs to the Hifadhi-Livelihoods Project in Kenya. This is how she will reach carbon neutrality.
But what about the visitors and people attending the show? Gabriela thought about that too. To make up for the footprint caused by the Ubers, private cars, taxis and planes booked to get to her show, Hearst is planning on making donations in their names to Our Children's Trust. This organization has filed several lawsuits on behalf of youth plaintiffs against governments, arguing that they are infringing on the future generations' rights to a stable climate system.
…FOR OTHERS TO FOLLOW
Hearst however, wasn't the only one to announce a carbon-neutral show this season. Gucci and Burberry said they were doing the same. As a result, Gucci said they will also offset the travel of 1,000 guests and workers required for the show as they are going completely carbon neutral. Also, to account for all the greenhouse gas emissions they generate they plan on supporting the protection and restoration of important forests in places like Kenya, Indonesia, Peru, and Cambodia.
A SUSTAINABLE FASHION WEEK IN THE MAKING
Now let's take a trip to England's capital city London, a fashion-forward, bustling place where the second of the "Big Four" fashion weeks takes place. Many designers are pioneering the way towards a more sustainable fashion future with interesting and innovative ideas.
For starters, British designer Patrick McDowell created pieces made from Burberry and A.W Hainsworth waste materials for his Spring Summer '20 collection. Ancuta Sarca presented a collection of hand-stitched up-cycled shoes. And finally, Vin+Omi were able to show off their designs made from nettles sourced from Prince Charles' Highgrove Estate.
Also, thanks to the British Fashion Council (BFC), London Fashion Week was the first of the 'big four' to go fur-free last year.  The BFC has also announced the Queen Elizabeth II award, which champions brands that have focused on their environmental and social responsibility.
Finally, in February 2019, 20 brands committed to the BFC and Vivienne Westwood Fashion Switch to Green Campaign. This campaign aims to bring the fashion industry together for a safer and greener future.
10 THINGS TO CONSIDER WHEN CREATING A SUSTAINABLE FASHION SHOW
Fashion weeks lead the way in creating new movements and new trends globally. They inspire and educate businesses, consumers and the general public. Brands have the responsibility to use their platforms to influence people into creating a more greener, sustainable society.
So, here are some things to remember when running a Sustainable fashion show or catwalk:
Hire local models who don't need to fly in.
See ways to reduce, reuse, recycle, or upcycle the staging of the show. Many brands go crazy to recreate the theme and after the show is finished, it all goes to the bin.
Think sustainable and avoid waste, especially plastic water bottles. Get water dispensers and give a sponsor the opportunity to give a branded reusable bottle to visitors.
Use LED lights if possible or any other way to save energy consumption and if allowed, use renewable greener energy.
Offset carbon emissions from transportation guests will travel in to get to the show by making up co2 costs.
If possible select a venue that can be reached with public transportation or have pickup points and buses organized.
Send out invitations online to save paper, or used recycled materials to create them.
Use local suppliers for food and drinks. And try to go vegan for one day. It is better for the environment.
Have recycling bins backstage and front stage.
Work with NGO´s and use your carbon credit for a good cause.
LIKED THIS ARTICLE?
Then you might also like these.