Today we are introducing you to Sheen, the first Saudi jewelry designer who showcased at London Fashion Week. In this interview, Nosheen Baksh, the designer behind Sheen, unveils the challenges she faced during the launch of her label, her inspiration, her personal development, her sustainable and ethical journey as a business and so on…
Nosheen says that whats she loves most about fashion is that the options are limitless. "You're a blank canvas and you curate what you like". We couldn't agree more! and if what you are curating and wearing is sustainable and ethical! Then, it is even better.
NOSHEEN BAKSH: A CREATIVE SOUL
How did you become a 
d
esigner
?
I have always been artistically inclined since I was a child. My background is actually in Creative Advertising, which formally taught me design – graphic design in particular.
How would you describe Sheen´s style?
What are your signature designs or statement
pieces
?
My style of designing is always quite feminine. I love symmetry and intricate details.
What do you do
when you're facing a creative block?
Take a break! I realized the only way forward for me is to pause and come back to it later.
What are your main sources of inspiration?
Nature and flowers have always inspired me. I spend a lot of time being curious and doing visual research about other cultures. My designs are inspired by traditional jewelry or other art forms in different places. 
What kind of questions do you ask yourself before beginning
design?
Would I wear something like this? Who would wear it? Is it functional/practical?
Who is Sheen´s ideal buyer? 
She is feminine, independent, appreciates travel and culture. She aspires to be a humanitarian and is conscious of world issues. 
Do you have one muse during the designing process or does your muse keep on changing?
I would have to say that my style of design is inspired by and consistent with my mother. She is my muse! Her input is significant in my production decisions.
What is your biggest challenge?
Being relevant… I am mostly inspired and fascinated by traditional, old, hand-crafted jewelry from different countries. The challenge is to play with tradition and today´s fashion trends and make them work well together.
How do you keep yourself updated with the latest design trends?
I use Instagram.  It is not only a social platform, I consider it a market research tool as well.
How do you stay organized or keep up with deadlines?
I start every single day with a to-do-list and set deadlines for every month. It's also important to reward yourself for accomplishments so you stay motivated.
Where do you see yourself
5
years from now?
I would hope that Sheen would be well-known as a socially conscious fine jewelry brand in the region.
A CARING HEART
Nosheen Baksh is part of the slow movement. Her jewelry is designed and produced in small batches. She also shares part of her profits with causes dear to her heart. "It's the way to go and the way everyone should go! We all need to do our part, even in the smallest way whether you're an individual or a business; everyone is responsible."
Why is sustainability important for you?
It's important because unsustainable practices have a direct negative impact on our personal lives; our food, water, our health, homes, and our future generations. There are many other reasons including economic and environmental of course, but your personal nuisances alone are still a good reason to start caring.
When I started Sheen, I wanted it to serve a bigger purpose than just be beautiful jewelry. I wanted to create jobs, so it is locally produced. I wanted it to be special and following my values of sustainability and high quality so we only produce small quantities or even on-demand instead of mass-produced. 
The materials we use are precious metals, 18k gold, and sterling silver. Both of which can be recycled/upcycled easily. These metals also hold investment value, which not only makes it an attractive purchase for customers but also encourages them to buy less and better. All the stones we use are ethically sourced, to our best knowledge. 
We want to have the lowest possible carbon footprint and be part of a better society.
SHEEN BRIGHT
Tell us a bit about Sheen and the business model?
Sheen is a fine jewelry brand based in Dubai. Its founding roots are design, humanity, and culture. Each narrative collection is inspired by a different culture and a percentage of proceeds from every piece is donated to a selected social cause.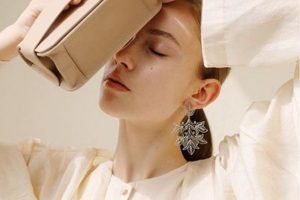 How do you produce your items?
Design sketches are taken to a factory where they are then digitalized, printed in wax, cast in metal and then hand-crafted till finished.
What kind of materials do you use for Sheen?
I use precious metals; 18k gold and sterling silver.
Are they recycled or biodegradable?
I am slowly introducing more recycled metals.
Can you explain with details your full supply chain?
I source the metals locally. Stones are sourced from distributors who ethically source their supply.
What environmental practices do you do within Sheen?
My pieces are locally produced, using recyclable/up-cyclable materials, and ethically sourced stones. We need to take care of the people in need and help each other. As a business, we should not lose our humanity. That is why I share part of my profits with NGO´s or causes that deserve some attention. Now I am sending money to help the Rohingya refugee crisis.
What do you do with the production leftovers?
There aren't any production leftovers as we produce a very minimal amount of stock per design. They usually sell out. If not, they are melted and recycled.
If you would want to see Nosheen Baksh slow, sustainable and ethical jewelry and get your hands on them, check her profile page in Goshopia. 
Liked this article?