Yes! And we are over the Moon because we did it respecting our values. Only using sustainable fashion! It couldn't be any other way coming from us, right? Dubai World Cup is such a huge event. Let me walk you through how the idea was born, how it evolved and grew, all our hiccups, and how special it was for us to win this award!
A BIT ABOUT STYLE STAKES
Every year our beloved city of Dubai is proud to host the Dubai World Cup. And every year, there is a competition happening alongside the horses, selecting the best in different style categories. And that is Style Stakes!
There are all these categories, but we only competed in Most Creative Hat, Most Creative Outfit and  Best Dressed lady.
Most Creative Hat
Most Creative Outfit
Best Dressed Lady
Best Dress Gentleman
and, Best Dress Couple
And you know what? We got finalists as Most Creative Hat and won first prize in the Most Creative Outfit! Yuhuuuuuuuu!!!! You can not imagine how happy we were. I was so happy that I started crying! They were happy tears, but I couldn't stop sobbing! The last time I cried like this, was when I met my little one for the first time!
We worked for months on this look. Everything was done from scratch and it started as an idea. Remember the Green Carpet Awards? I know Meydan is not the Oscars, but this is something that I always say. "At Goshopia, you can find items to go to the beach, to the office or the Oscars." The point is that sustainable fashion is still fashion, it is very stylish and the only thing that changes is the process, the way that materials get sourced and transformed into your beautiful new pieces.
PREPARATION OF THE WINNING LOOK
The pieces part of this look are full of meaning and beautiful stories. A common effort by people that truly believe that fashion needs to slow down and become eco-friendly. And who do you think that people are? I, Araceli Gallego had the idea and started coordinating with Sylvia Calvo, and Ines Montesinos, who put together their respective designs. And Miah Llanes, Silke Styles, and Tristan Czar came to help on the day to make it glow and shine!
We had the conversation going in a WhatsApp group and I got even to meet in person when Ines flew to Dubai to participate in Expo. Initially, we had a different hat for our look. The first hat was exhibited at Expo as a work of craftsmanship, showcasing the use of natural materials and traditional techniques. From Dubai, it was supposed to fly to Paris for an exhibition and back to Dubai, but it got lost on the way!!!!
Imagine our stress when the hat was nowhere to be found! So, after zillions of calls and follow-ups, we decided that it was better to just do a new one following the same philosophy. And so our finalist hat came about! And let me tell you, it is so true that everything happens for a reason. I love this hat even more than the initial one- and at the time I thought that to be impossible!
This fabulous hat uses haute couture sinamay and buntal -both natural palm fibers. The hat is to be worn vertically and is embellished with Faisal feathers and rachis that are shaped by hand using vapor and traditional techniques. The delicate flower is made in silk organza and every petal is molded patiently by hand. Even the Montesino Vilar logo at the back is done by artisans in metal. Isn't it the most gorgeous hat ever!!! Let me tell you that is very comfortable and easy to wear too.
SUSTAINABLE FASHION WINS!
Now, we need to talk about the dress. We went with an A-shape silhouette as we wanted the dress to be classic and timeless, elegant and sophisticated. Seeing our research Pinterest board we saw that was a winning shape, but also we needed to respect the rules and protocol of Style Takes as a competition in terms of length and how revealing it could or couldn't be. Every race has different rules in terms of dressing and we learnt that for example, in the UK, there are even different set of rules also depending on how close you are from the Queen's circle.
Our winning dress is made out of used coffee bags. Coffee bags are made of jute, a natural material that is biodegradable and can have so many more lives. The bags become gorgeous and unique dresses at the Atelier of Sylvia Calvo in Barcelona. We always say it, but reusing discarded materials in clever ways, saves natural resources and energy. Upcycling can be really cool as you can see.
The flowers detailing the dress are hand-cut from the coffee bags hand-sewn to the lower frontal side of the dress. The center of each flower is hand embroidered to the dress with 3 different natural precious stones: Mother-of-Pearl, Citrin, and Green Agate. The gemstones are natural so they have beautiful properties upon the person wearing them. Maybe that is why Miah looked so happy the whole day, even if the heels and the heat were pressing.
We get asked lots of times if the dress is itchy as it is coming from jute. And the answer is no. It is super comfortable and not itchy at all. You see, under the dress, there is a lining that not only allows the dress to have a nice fit but also makes sure you have zero itch. And I know this because I have my own Jute dress too and I love it!
EVERY LITTLE DETAIL COUNTS
Every accessory has also a beautiful story behind too. The bag for example is made out of wood. Leftovers from a furniture factory, now turned into a luxury item and coveted by many celebrities. You can get yours here or visit our showroom to see the available ones for quick purchase.
The earrings are gold plated and showcase a Tiger's eye stone ring. It is all from a socially driven brand called Fugeelah. Funds from the sale of this gorgeous jewelry collection go to support a school of refugees in Malaysia. The bracelets are all handmade by a ladies' artisan association from Morocco.
All the pieces of the look you can find and shop at Goshopia.com!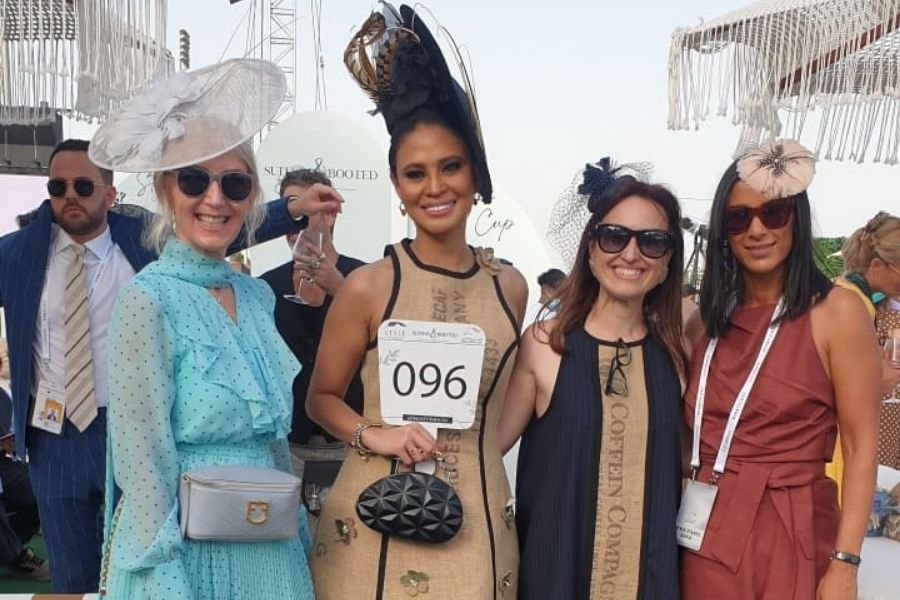 BEHIND THE SUSTAINABLE LOOK THERE ARE SO MANY MESSAGES
I wanted to break many stereotypes with this and Style Stakes was the perfect place! Fashion is said to be the 2nd largest pollutant industry in the world, only behind Oil & Gas. Yes! I know you might need time to digest that piece of news. That is why at Goshopia we focus on slow, sustainable, and socially responsible fashion. Sustainable fashion has the stigma of being "just too comfy", " just too loose" or " even just too boring"… People might think you can not wear them on certain occasions. But that is far from the truth!
We want to show the world you can wear your values, no matter the occasion… Sustainability is about the process. It is about quality and longevity, about good materials, innovation, and design. You can look amazing and wear pieces that have respect and love for people and the planet. But, I wanted to break – crush if I might- even more stereotypes… at least one more!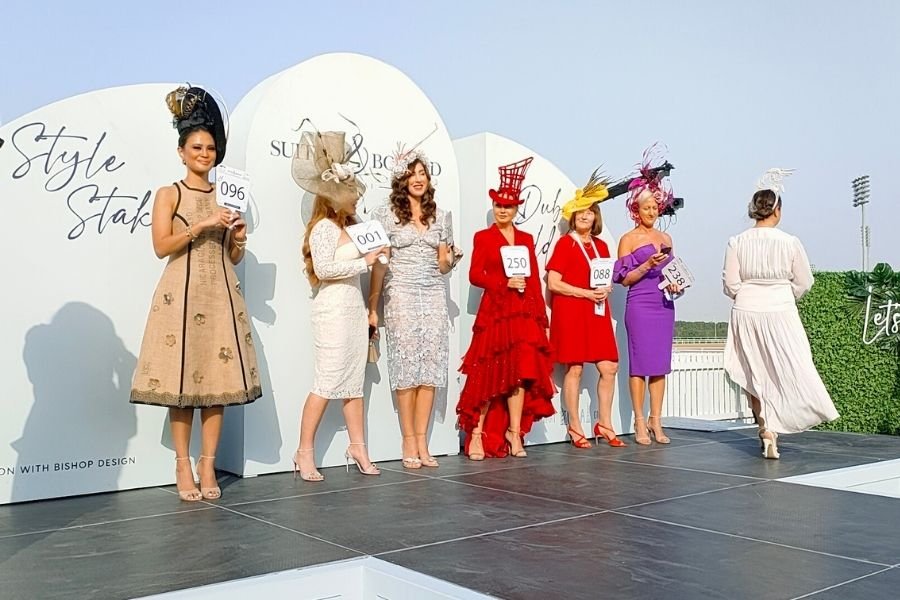 Miah Llanes, our model for that special day and good friend, is from the Philippines. Over 20% of the Dubai population is from there and yet we don't see too much representation in competitions like this. We chose her because she is an environmentalist and understands what we are about. She spoke beautifully. The Style Stakes presenter asked her… "so Why Sustainable Fashion?" And she replied- "It should be our number one priority to respect the Earth".
SO, AFTER STYLE STAKES, WHAT IS NEXT?
After the Dubai World Cup, it was time to reflect and move on to our next thing! … Fashion Revolution Week! Come and join us for the annual event that this year will be in hybrid form. Yes, the panels and talks will be online but one day, the grand finale day… will be in person! Don't we all miss seeing and hugging our people?