As you very well know, respect for the environment is at the core of everything we do at Goshopia. So, when we met Eric and he explained to us how through his fantastic App Zeloop we could be able to reward our eco caring community every time they would do some plastic recycling, we were sold!
We are fans of all the SDG's but personally, the social me loves the SDG17. It is all about collaborating and networking and finding synergies that can take us further and higher.
So, [drumrolls, please]… We are thrilled to introduce you to our new partner for the SDG's! Zeloop. Now, every time you recycle with the app you get rewards that you can use at our store. This is very much needed at the moment. The amount of plastic in our oceans, waterways, natural spots, and landfills are staggeringly high. And this will take forever depending on the type of plastic to decompose. We need to start refusing, reducing, and definitely recycling, so there is no need to keep on producing new plastic.
And please, please… stop buying plastic clothes and shoes. Yep! Polyester is plastic, Polyurethane is plastic… Don't get fooled by the Vegan tag. Plastic might be vegan but it endangers our lives and the lives of the whole animal kingdom. There are vegan options that are not plastic. Or look for recycled plastic alternatives. I know it might be a headache to look for them, but it is worth it.
Become a Zeloopian and join our plastic crusade. And if you are like us and avoid using plastic bottles like the plague- watch out for our new stainless steel bottles coming- you can still recycle your colleague's and friends' bottles. They will love to see that with such an easy action, they are helping Mama Earth while being rewarded and you have the perfect conversation starter.
How to start
It is very easy! Just download the ZeLoop App, take a picture of your plastic bottles when disposing them at Zeloop-designated collection points, and start earning Eco Rewards. When you have enough, you can use them in vouchers and discounts on your next Goshopia purchase.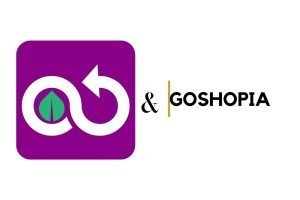 See, easy as pie! Now it is time to start recycling.
LIKE THIS PARTNERSHIP?
Then you are part of our tribe!