Summer is here! And so, it's time for beach holidays and tans, and cold, cold drinks to soothe us for the next few months at least. It's the season for taking a break. Before you're off to do everything under the sun (literally), let us provide you with the ultimate list of summer essentials you will need pronto.
OUR SUMMER ESSENTIALS
INVEST IN LINEN
For those perfect #ootd shots on Instagram, you're going to want to have the best clothes this summer. Of course, you'd buy a swimsuit for every day at the beach, but what about when you're going out on the town? Fancy dinners in Mykonos or parties in Ibiza! The possibilities are endless, but sticking to the (ironically) evergreen color white would be a safe bet. White linen will help highlight your tan, so yep! We are in with this trend! At least one or two white pieces of clothing are definitely essentials.
It wouldn't be Goshopia if we didn't give to you sustainable alternatives to the usual brands and designers that you see in the market! For this article, we give you Fácil Blanco Dubai, part of the Goshopia family. An ode to classic beauty with flattering tailoring and timeless style. They produce their pieces in an atelier in Dubai, which is amazing. We recommend the super cute Laura Shorts or the Habyba Beach Kaftan, both perfect for lounging at the beach, to wear over swimsuits, or even to evening festivities that are planned. We also love the Ynes dress. It is super versatile and cute with all those ruffles.
STATEMENT ACCESSORIES
THE BAG
As white is the best color for the summer, we need to play with the accessories and bring splashes of color to our look. Now, this could be anything from your nails to maybe a hairband to your handbag. Oh! We said the magic word! Bags! You will need them to go out and about.
Depending on the plan of the day, you might need a big tote that can carry all. These Martina Wyss Joyce totes are super cool and resistant. If you are touring around, with a camera, maps, tickets, telephones, water, and snacks on board, you need something like this. If the plan is to go to dinner or to a party take with you one of the super cute and colorful wooden clutches of Duet Luxury. Not only they have a lot of options, but you can also create your own bag. Check the Triangle, Asymmetric and Floral Clutches to make your own clutch.
SWIMSUITS
Who doesn't love a good splash in a pool or at the beach?! When it's hitting crazy temperatures, all we want to do is go for a dip. Feeling water against our skin refreshes us and puts us in the true summer spirit. Swimsuits and bikinis are absolutely one of our summer essentials. The great thing is that there are always new, cute designs coming out and we are truly spoiled for choice. This summer, pick out a swimsuit that you feel yourself in, you feel good in. Check the different options that use recycled plastic to create the yarn and do swimsuits. So that you are helping the environment while looking fab.
SUNNIES
The outfit isn't complete without accessories. In the summer, that has to include sunglasses!  Now, any old pair could do, but if you're aiming to get people shook, then doing some research into different designs is worth it. You shouldn't play with your eyesight. Make sure you buy good quality lenses, if possible UV and even better if they are polarized. Cheap sunglasses, as you'd expect, don´t have the needed eye protection and they break so easily. Imagine you get to your destination and have found your new pair of sunnies broken in half! Also fun fact: sunglasses are also made sustainably! Definitely look into the availability of those.
EARRINGS
Nothing speaks louder in summer that Exotic flowers. Farah Abu is a designer that is preparing an awesome collection of earrings that would be available in exclusivity at Goshopia.com. At the moment you can only get them by contacting us. If you are interested, send us an email. These earrings are totally unique so they are not yet listed.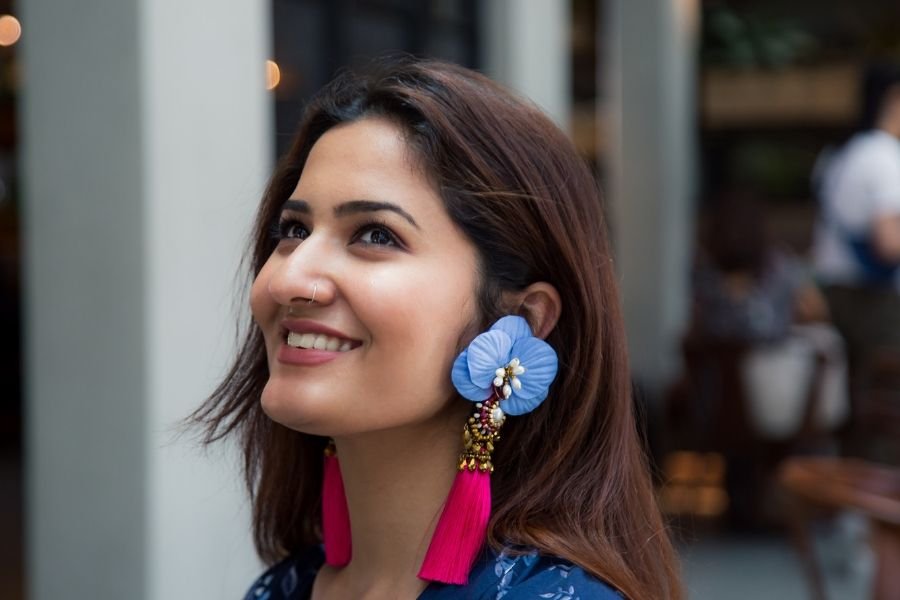 SUMMER SKINCARE
BEAT THE HEAT!
This should be an obvious one: sunscreen! Never leave the house with slathering it all over. Keep it on you at all times. Reapplying is more essential than you might think. Since it's hotter than ever (thanks global warming), I would highly recommend moving up an SPF from whatever you were using before. SPF50 should be the minimum, to be honest. And if you are going to be a lot under the sun, get yourself some physical protection: a hat or a cap. We really need to protect ourselves from the damaging UV rays.
Keep your skin hydrated by drinking as much water as possible. Buy yourself a reusable water bottle to carry around. Not buying single-use plastic bottles feels really good, trust me! Other than that, you could also moisturize using lotion and creams. Moisturizers with cooling ingredients like mint and lavender are perfect, and a lot of these products also help heal irritated skin and puffy eyes! What more could you want?
Oh! If you are going to travel, have a read to our Sustainable Travel post. There we share some easy tips to become a more conscious traveler. So, these are our summer essentials done! Of course, everyone's priorities are different, so let us know in the comments what YOUR essentials are! Do we have any in common? What are your favorite products?