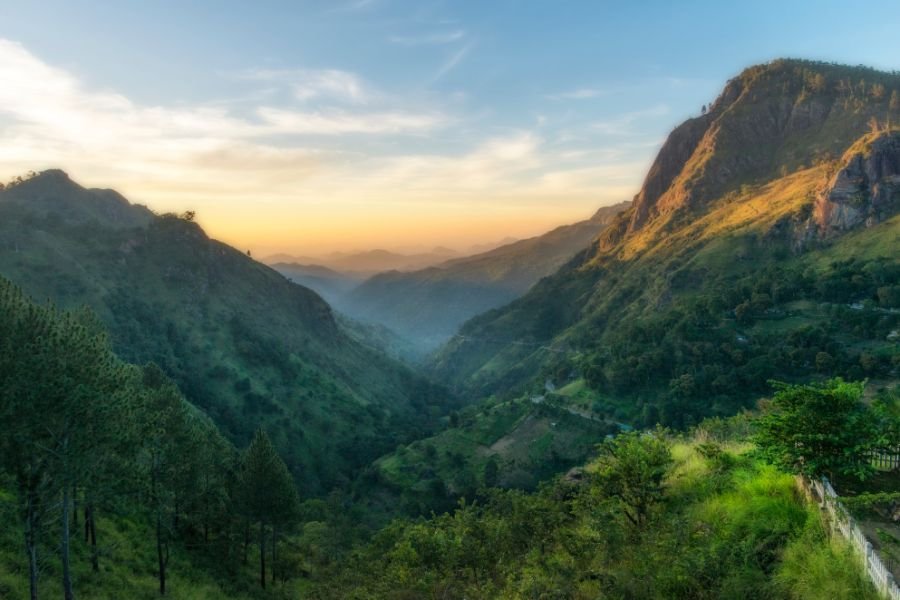 My family has been planning to go to Sri Lanka for the past 3 years, but for obvious reasons, it was not possible. In the past couple of weeks, there has been a lot of negative news regarding Sri Lanka. There were protests, it was not safe, no electricity, and the only thing we were told was not to go. At the last minute, we decided to go and tried risking it – it was the best possible decision we could have made. Sri Lanka is a beautiful country that has a lot to offer and is definitely of my top 3 favorite destinations. It is also a very sustainable travel destination.
Before going, we only heard how dangerous it was, which was far from the truth. We have not seen a single protest, everyone was extremely nice but upset about the spreading of a negative image and news. Now, I am happy and proud to be able to spread the word about Sri Lanka and help them get back up on their feet. 
If you are planning to visit Sri Lanka in the future or will consider it after this article, here are 8 tips on how to travel sustainably to Sri Lanka.
Choose eco-resorts
This has to be one of the easiest travel sustainability tips. Sri Lanka is an island. With the usual struggles, it came to the realization that actually being eco-friendly is a great way to save money and so this is a philosophy you will find here extensively. We stayed in 6 accommodations during 12 days there and each one of them was sustainable. They are "zero waste" because they simply cannot afford to throw away anything. They make bigger portions for dinner so you could enjoy it, but so would the staff.
Even for cooking they don't throw out any peels from vegetables, they learned how to cook with them and it is delicious. When they make you drinks, they only use fabric coasters, paper, or metal straws. Almost all of the resorts have their own tea or rice plantations, and vegetable and fruit gardens so everything you eat is fresh and grown bio. They also kindly ask you to only wash the sheets and towels when necessary, to save the water.
Support small family businesses 
Wherever you travel, you should support small businesses and not big corporations. Even in Sri Lanka, you will find hotels like Marriott that completely ruin the skyline. There is no point in traveling to Sri Lanka if you are planning on visiting big hotels like that. Instead, visit hotels that have 4-10 rooms and are made in the Sri Lankan style. These hotels are still luxurious so you don't have to take out the comfort, but this way you are supporting locals and their communities. We found ourselves staying in tents in the middle of tea plantations and that was our favorite part. Try staying in tents there, they are huge and have a shower, toilet, and big beds. You will be part of nature where monkeys will jump around you and wake up to birds chirping in the morning. You can't miss that.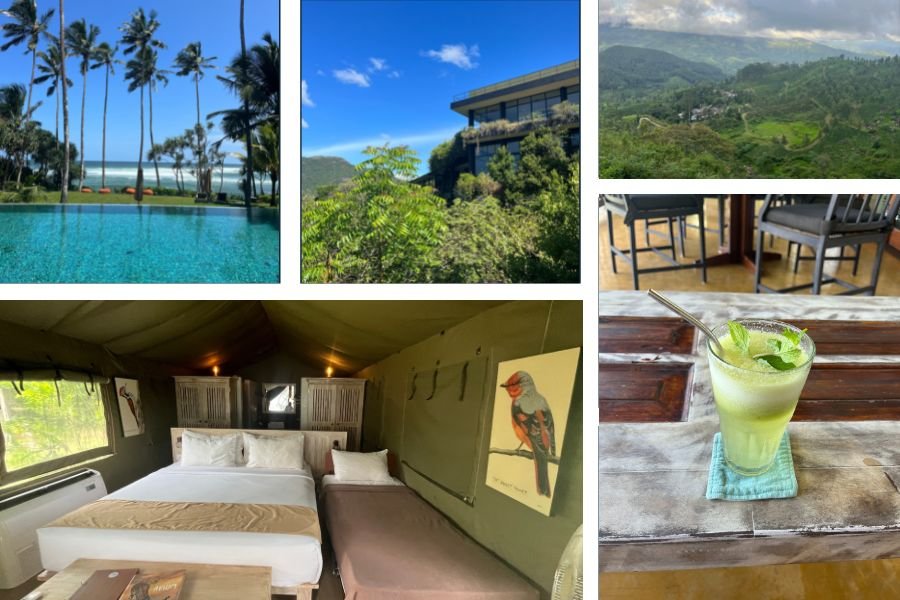 Hire a local guide
We booked this trip with an agency whose main focus is to support the countries you are traveling to. They only book local guides that will guide you during the whole stay. The people in Sri Lanka need tourism as that is their biggest form of income. Try looking for agencies that do the same. You will be enjoying the local culture and hearing stories about what is going on in the country, how they live, work, and their life stories, so don't be scared to do the same. Even if you do not want to go through an agency, it is good to have a point of contact there in case something happens.
Bring eco-friendly products
This is a rule you should follow everywhere you go. Bringing reusable products will not only help the planet but will be more convenient for you. If you bring your own water bottle, which we, unfortunately, forgot when packing, you can ask the hotels to refill it for you before you head out to explore the country. We were always struggling with water as it was 5 of us and we only received small plastic bottles from the hotels as the tap water there is not drinkable. They have their own water filters so it is better for you and them to have your own bottle.
If you will have your period like me, the biggest lifesaver was a period cup. We had very long days and the public toilets were not fun. This way I didn't have to worry about my period at all and it was also helping the environment. Single-use products such as tampons and pads will end up in the ocean, so your period will only make it worse for the country. Be responsible and help them when you are there. Don't make it any harder than it already is.
Visit responsible animal sanctuaries
Sri Lanka is known for having animal sanctuaries that are supporting elephants. However, a lot of these sanctuaries are not helping the animals. The elephants are tied to chains, are not getting enough food and water, and have no freedom. These sanctuaries are purely tourist attractions. Instead, visit transit homes where they care for baby elephants until they are ready to go out.
The best and most known transit home is Udawalawe Elephant Transit Home which feeds the elephants three times a day with milk and leaves and they are free to run around a national park. On the other hand, probably the most known elephant "sanctuary" in Sri Lanka is Pinnawala Elephant Orphanage which is a tourist trap as they represent itself as a sanctuary. These elephants are on-chains and their longest walk of the day is going to the river that is only 500 m away from where they are held. Please avoid this place.
You will also definitely want to visit national parks, which are a must-do in Sri Lanka. If you are lucky, you will see a leopard, which is, unfortunately, going extinct, but Sri Lanka has the biggest population of them in the world. The go-to place for safari is the Yala National Park. The animals are living in their natural environment, coexisting with each other and it is amazing to see them free and happy.
Eat local food and explore
Why travel when you don't want to experience the local cuisine? Sri Lankan cuisine is based on curry and rice, it has a lot of vegetables, and they use coconut oil and coconut milk, so a lot of their dishes are vegan. Unfortunately, tourists do not want to taste the local cuisine, which caused the entire country to build restaurants that only serve pizza, pasta, burger, and sandwiches. It is a shame to travel to a country and find it difficult to taste their food because tourists only want to eat what they eat at home. Their food is delicious, but be careful with the spiciness, they like it hot! Instead ask for no spicy or medium spicy option, which they are happy to prepare.
Respect the country
Respect the locals, respect the food, respect the environment, and follow their rules. Be nice to the animals, don't feed them, yell at them for a picture, and don't take pictures of the Buddha from the wrong angles. It is forbidden to take a picture with the Buddha when your back is facing him, please remember this whenever you visit any Buddhist country. You will also need to cover up your knees and shoulders and take off your shoes, and hats, which can get annoying if you are visiting 5 temples a day, but it's worth it. Read about their rules before you go so you do not offend anyone. Let's help this country when visiting it, not hurt it.
These rules apply everywhere you travel, so don't forget to travel sustainably anywhere you go!
-X-X-X-
The assertions and opinions expressed in this article reflect the views of the author(s) and do not (necessarily) reflect the views of Goshopia. Goshopia can in no way whatsoever be held responsible for the content of such views nor can it be held liable for any direct or indirect damage that may arise from such views.
Liked this article?
We think you will enjoy these too.
CELEBRATING WORLD ENVIRONMENT DAY
UNITED CELEBRATING BIODIVERSITY!