Is there room for a more sustainable modest fashion? We think so. Nowadays, we hear about eco-friendly and sustainable products all the time. We believe in a more inclusive way of fashion. Fashion items can, and actually, should be also sustainable no matter the style or the wearer.
By now, we know a sad reality. The fact that opposite the glamorous side of fashion there is a dark side. Especially, if we think of fashion as a fast-paced industry, producing trend after trend, fighting to get you to buy items you don't need and that won't last too long anyway. There lies the main problem of fashion and sustainability.
A huge amount of garments are produced on a daily basis. Retailers try to sell them at an original price, if not sold, they might reduce the price when the sales come. But what happens when the next collection needs space in the shop? Where do all those unsold clothes go? Sorry to be the messenger of bad news but it ends up all dumped into the environment or burnt. So we are depleting the natural resources, using humungous amounts of water, having people to work under poor working conditions to end it all burnt or as landfill? This production rate will destroy the Earth in no time. It is impossible to sustain.
BUT THERE IS HOPE
As a result, designers around the world are driving towards a more sustainable fashion. Small changes can take you far. The usage of more eco-friendly products in terms of fabric, ways to produce and so on have an impact. We don't need to be perfect, every small bit helps. Sustainability is a journey (and a destination!) and we know it is not easy to change the actual status quo.
When it comes to modest fashion, sustainable modest fashion is in its infancy but we think it will have a bright future. That is why we have curated a list of modest fashion brands that are working on this front.
SUSTAINABLE MODEST FASHION BRANDS
We found some brands that are part of the modest fashion movement and that care for the environment. Yes! Let's have a look at some eco-friendly modest fashion brands. Attention! This list will be updated, so if you know of any modest fashion brand that should be added, let us know.
MyKaftan
MyKaftan is a fashion label based in Dubai representing the unity of cultures between East and West. They have a variety of traditional abaya and kaftans with a modern and chic look which will give you a stunning look. Hand-made stitching and laser cutting is the signature design of most Mykaftan collections.
What we love about Mykaftan is how creatively is able to combine traditional and modern. On top of that, they are part of the Slow Fashion Movement, meaning that they don't mass produce their items. That translates into less waste to the environment. The material they use is a cellulosic fiber that is much better than polyester. Vasilisa, the designer behind the brand is constantly looking to introduce changes to make her collections more sustainable and her workers happier. Have a look at their pieces here.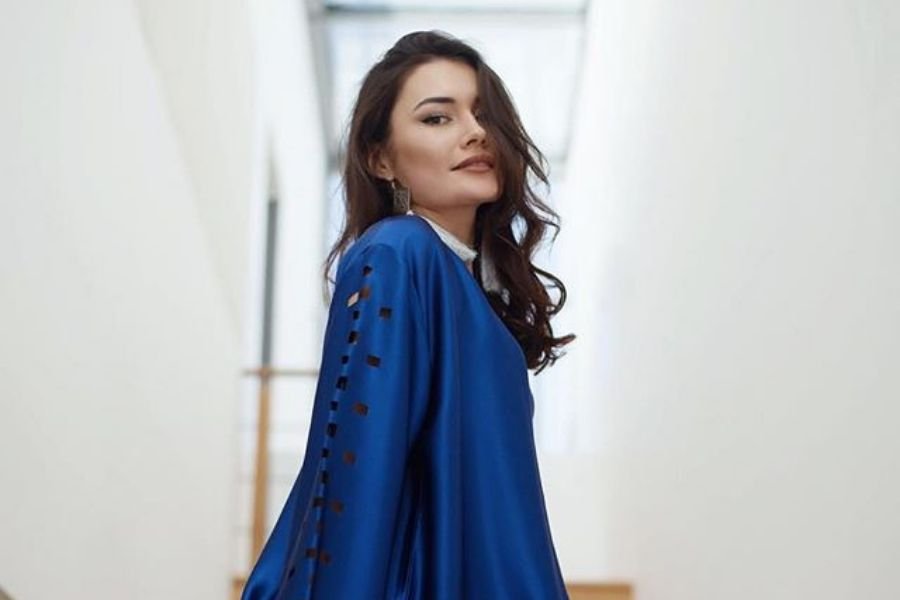 Stone Grey
Stone Grey, same as MyKaftan, is part of the Slow Fashion movement in Dubai doing modest fashion. Their designs are created in a minimalistic and comfortable way which can be worn for any situation without worrying about the trends because they are simply timeless and elegant. Jino Joy the designer introduced some sustainable practices within her atelier. She repurposes the waste of another nearby factory to reduce the use of paper for the creation of patterns. Check what they are doing and fall in love with their work in this link.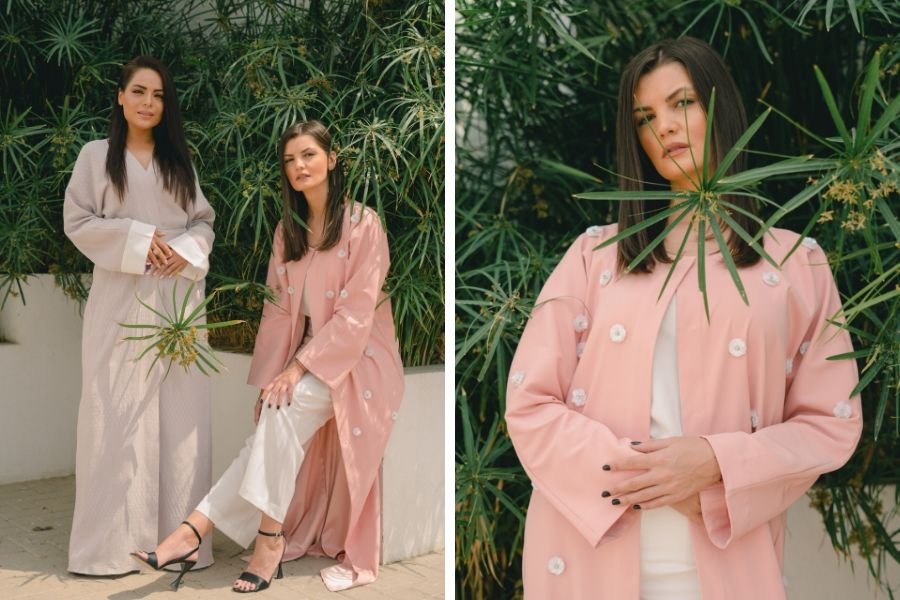 Vera Sukhinina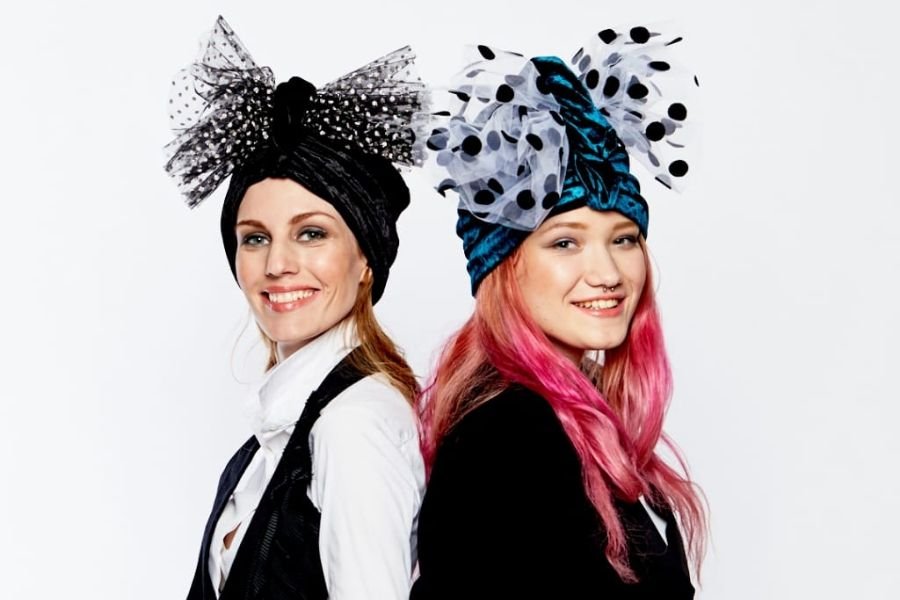 Do you love wearing turbans? If yes, have a look at Vera Sukhinina's amazing handmade turbans. Vera Sukhinina is specialized in headwear. She created her signature Transformers Turbans and Turban Chic which are so much fun. And on top of looking gorgeous, they are super easy to style in your own way. Vera has a range of hand-made turbans with premium class fabrics and lovely embellishments with feathers, Swarovski crystals, pearls, natural stones, etc. Tell us which one is your favorite!
Under-Rapt
Physical activities are very important for this generation. If you are an athlete person who wants to maintain their modesty all day long, I have a piece of good news for you. Under-Rapt offers you eco-friendly modest sports and casual wear. They use specialized fabrics for their collections for a good sweat resistance and hygiene. You can try out their 'sports hijab' and 'hijab hooded base layer' to cover your hair or to keep your hair uptight. Now you are ready, set, go to be fresh and enjoy your workout.

TIPS AND TRICKS TO HAVE A SUSTAINABLE MODEST FASHION WARDROBE
If you want to start transitioning into a more sustainable closet, you need to change first your mindset.
Look for timeless designs and stop the chasing of trends.
Buy only what you need and try to make it last longer by choosing quality products and caring for them.
When buying Hijabs think which ones can mix and match with the rest of the outfits in your closet. Select some neutral colors which can be worn with any of your clothing. This way you can be more eco-friendly as you are buying only what you need.
Get one overcoat for yourself that you can pair with different garments in multiple ways. For example, think of using it over a jumpsuit, a maxi dress or a skirt and a T-shirt. A sustainable mindset will make you become very imaginative as you really want to maximize your favorite items.
Converting your off-season skirts into a trendy headscarf. Its fun and a great idea to have a new piece in your wardrobe. All you need are some basic pieces of equipment like a sewing machine, measuring tape, fabric scissors, and your favorite hijab pattern. Repurpose, Reuse, Recycle… all are good!
LIKED THIS ARTICLE?
If you liked our sustainable modest fashion article, we have found other amazing articles about sustainability and modesty.