Today we want to welcome Nice Hand Brand as a new member of the Goshopia family. Nice Hand is the result of love, complicity, and understanding between mother and daughter. Yep! You hear it right. This brand is coming out of a Mother-Daughter duo that are best friends. Want to know how they make it work? This is their story.
A FAMILY WITHIN A FAMILY
Hi Monica! Hi Celia!
You always had a very special connection. How is it now to work together? Has the family dynamics changed?
Monica.- Yes, we've always gotten along extraordinarily well. For me, Celia was a dream come true and since she was born we have had a very, very special relationship. I always say that Celia is not only my daughter, she is my best friend. And it is precisely from that very special connection that Nice Hand was born. Actually, what has changed is that now is that we are almost always talking about Nice Hand! Every day is different and there is always something to comment on. Although sometimes we are many kilometers away, we are always connected!
How was the process to decide to start your own fashion brand?
Celia.- The love for fashion, style and a lost gene that was calling me on the path of entrepreneurship have really come together. Many times we spoke about how wonderful it would be to be able to have our own clothing brand. What began as an illusion, little by little gained more strength until a summer afternoon in 2019. I remember it perfectly. I was on the terrace of my house with my mother. We were talking non-stop and suddenly we said to each other Why not? And from there, we were clear that there was no going back. We would do it. And from then until today, we began to learn, to look for fabrics, to capture our first designs, search for a pattern maker, atelier… until, in April 2021, Nice Hand sees the light!
STARTING UP A DREAM
You both have very different backgrounds. How do you organize the work?
M.- Precisely because of that connection and because we know each other so well everything flows very easily. Even the division of tasks is very spontaneous. We usually work as a team, nevertheless, it is true that there are tasks that we are clear about which of us is going to develop them because one of us is better at it. But then we both supervise everything and we give the go-ahead jointly.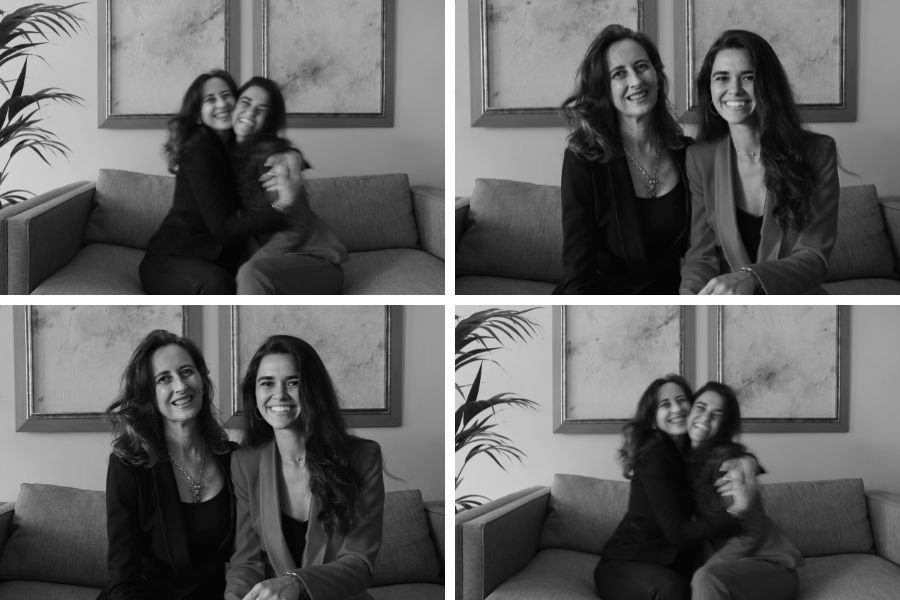 NICE HAND PLANET & PEOPLE VALUES
Why it was important that the new brand would be sustainable and eco-friendly?
C.- Nice Hand at the end is an extension of us, of our way of thinking, of living, of our principles and values. It all started with food. At home, we have always eaten as healthy as possible. I always remember seeing my mother reading the labels and discarding food. Then it was the turn of the cosmetics, also trying to buy them as natural as possible, and then it was the turn of the clothes. One thing led to another.
When we went to the shops – we enjoy very much going together-, we gradually began to look at the composition of the garments, the place where they were made, where they came from … We were increasingly concerned about the brand's commitment to the environment, to the workers… In the end, we talk about a lifestyle beyond fashion. We wanted that from the beginning Nice Hand would bear our identity stamp. For this reason, sustainability and commitment to the planet, people, and ourselves are implicit in its DNA.
How do you select your materials?
We are in a continuous search for fabrics. We select them for their quality, for their beauty, and for their sustainability. They must always meet these three requirements. That is why we always demand certifications that guarantee their sustainability. Being a small brand and placing small orders, it gets quite complicated. However, we are convinced that the world of fashion is evolving little by little and we hope that it will be increasingly easier to have access to this type of fabric and suppliers.
CREATIVITY IN HOUSE
Who is the creative hand to come up with the designs?
M.- Celia is undoubtedly the more creative of the two. With two strokes is able to capture any idea that we have in mind. In any case, we love to discuss the designs together, and between the two of us perfect them until they see the light.
By the way, tell us the story about the name.
C.- The name was one of the things we decided on first. We took our time. We wanted that when pronounced, it would simply give you a good vibe and a good feeling. One day I woke up in the morning and it just popped into my head. I ran to find my mother and I said, what do you think of Nice Hand? And she loved it. We tested it with family and friends, and it gave everyone a good feeling. It was final then! It would be called Nice Hand!!
FASHION CAN HAVE A POSITIVE IMPACT
Where is your atelier? How many people work with you there?
We are a brand that has just been born, so that the two of us carry out almost all, ie. the designs, marketing, web tasks… For patterns, we have a couple of highly experienced pattern makers who know how to put these pieces together perfectly to give life to our designs. At this time we work with a small atelier of three or four people located a few kilometers away from our house. That way, we can go very often and have a fluid relationship with them.
What kind of impact would you want to create in the world through your brand?
M.- Our mission from the beginning is to offer quality, designer garments, at fair prices. We are working to make you fall in love with them, excite you. But at the same time, we want the garments to show our principles. They are full of values and beauty. We want to generate a positive impact through our garments. Our garments are proof that there is another way of doing things.