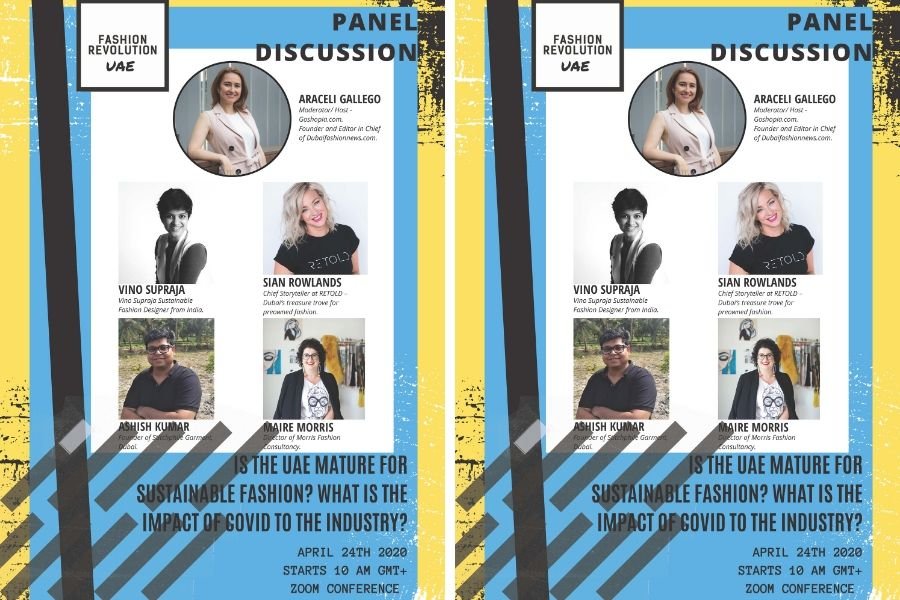 Fashion Revolution is around the corner! This time and due to COVID-19, we will have all the events going digital and Goshopia is part of it! The 24th of April at 10:00, yours truly Araceli Gallego, CEO, and Founder of Goshopia, will be hosting a panel talk with other brilliant people from the industry. Zoom in!
And not only that, it is about to be Goshopia´s first anniversary. This year has been a rollercoaster of emotions and now with Coronavirus and the much needed social distancing, we had to cancel or postpone all our events. But we are conspiring -together with the Universe!-to do something you will love. Stay tuned for our happy event details and if you can support us and our designers in the meantime, we will be forever grateful.
THE FASHION REVOLUTION UAE PANEL
Answering the questions of Araceli Gallego from Goshopia.com, we will have:
Vino Supraja-one of our fantastic fashion designers that proudly carry our 3 S´s. We love the colorful collections that personally she sees develop from A-Z.
Sian Rowland, Founder, and Chief Storyteller at Retold, the best second-hand, vintage, pre-loved shop in Dubai.
Maire Morris, Fashion consultant and mastermind behind Morris Consultancy.
Ashish Kumar, former buyer at Landmark, started Stitchpile in 2017 providing garment design and sourcing for different fashion brands. As he works with different factories, he has first-hand information on the supply chain impacts.
We will be talking about the impacts of Coronavirus in the fashion industry and if the UAE is mature to embrace sustainable fashion. To join it is very easy. You just have to press the link below at the specified time and be ready to sit, relax and ask your questions.
Topic: FR UAE: Panel Discussion
Time: Apr 24, 2020 10:00 AM Dubai
Join Zoom Meeting
Meeting ID: 984 1724 8597
Password: 286321
In case the time is not good for you, no worries, we will be also recording it and streaming it through Facebook Live. You will have access to the recording at your convenience. To receive it, please leave your email here.
WAIT! THERE IS STILL MORE!
Fashion Revolution UAE is going to have also a Mending workshop. Why? Because one subtheme this year for Fashion revolution is #lovedclotheslasts and indeed they do!
This workshop is taking place on the 26th of April also through Zoom. Time is still to be confirmed but you will have the amazing Natalya Konforti from Glitches & Stitches leading the class.
Also, we will be hosting our Student´s competition. We have received 21 applications and on the 24th of April, we will be announcing the 10 finalists. They will have until the 9th of May to submit their final collections. This year and due to the Covid-19, we are not able to guarantee internships for the winners, but we have great prices nonetheless. Courses, masterclasses, and mentorships from key personalities are the sought-after awards this year. The winners of this year's Student Competition will be announced on the 11th of May.
WHAT IS FASHION REVOLUTION?
Let us not forget that Fashion Revolution Week is a homage to the 1138 people that died and the over 2.500 garment workers injured at the Rana Plaza factory collapse in Bangladesh. This terrible happening took place on the 24th of April 2013 and it made it the 4th largest industrial disaster in history. Out of the pain and chaos, a new movement came about and the #whomadeyourclothes campaign saw the light. Thanks to that campaign, people started questioning the actual system.
ARE YOU INTERESTED IN SUSTAINABLE FASHION?
Join the army of conscious fashionistas here!