Marie de la Roche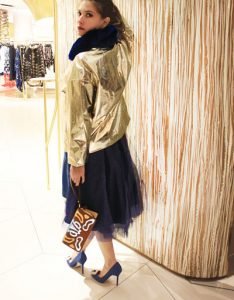 Marie de la Roche was introduced to the Middle East in 2015. The brand focuses on bold playful couture details splashed on exquisite quality statement bags; always with a dash of quirky inspiration from whimsical world details.
Marie de la Roche rebels against the idea of conventional handbags by creating exotic shapes for a modern woman who appreciates making a bold statement. She delves head-on with playfulness and boldness in color and texture, mixing couture elements and rich artisanal craftsmanship. A dreamer who finds inspiration in the many places she calls home. Her work has been influenced by the different global ideas of beauty and beautification of oneself. She found her call in creating complex beautiful forms whilst breaking the mold of what is known as conventional accessories in the luxury market.
Marie wants everyone to be their most exotic and confident self by giving her muses never seen before shapes and items that truly provoke lust over them. Be Bold or go home is her motto.
Welcome to her Playground…. right here in Goshopia.