The past 10th of June was a very special day for us. We were soft-launching a concept that we wanted to implement long ago and the pandemic put on hold. Let me introduce you to the brand new and shiny School of Happiness. With the School of Happiness, we want to share the goodness of our community, learn from one another tools, tips, and tricks to live a healthier, happier, better life.
When sharing the concept I realized how much potential we have within our own community. As a result, it was easy as pie to get it organized. We wanted this first event to be small and be able to ask the participants what they liked and what they wanted. It was a total success and we enjoyed it very much.
THE SPEAKERS
CAROLINA PICAZO
In this first class of The School of Happiness, we learned about Positive Discipline with Carolina Picazo.  How to deal with our children, our husband, and our relationships to be kind and have communication flowing is critical. Just by using easy techniques and understand the different perspectives, we can improve so much. As a new mum, I got fantastic advice to educate and negotiate with my little one.  You can find more about Carol's mission in @lideraenpositivo. She is a certified facilitator and happy to assist you with any questions you might have.
One thing I loved from her experience was about meetings. As adults we dread them, but let me tell you she has a very different approach to them. She shared how having short weekly meetings in which everyone in the family got to express their conflicts and shared the solutions, made her family life so much better. Now the conflicts were handled not in the heat of the moment. What is best, together with the problems, came the solutions.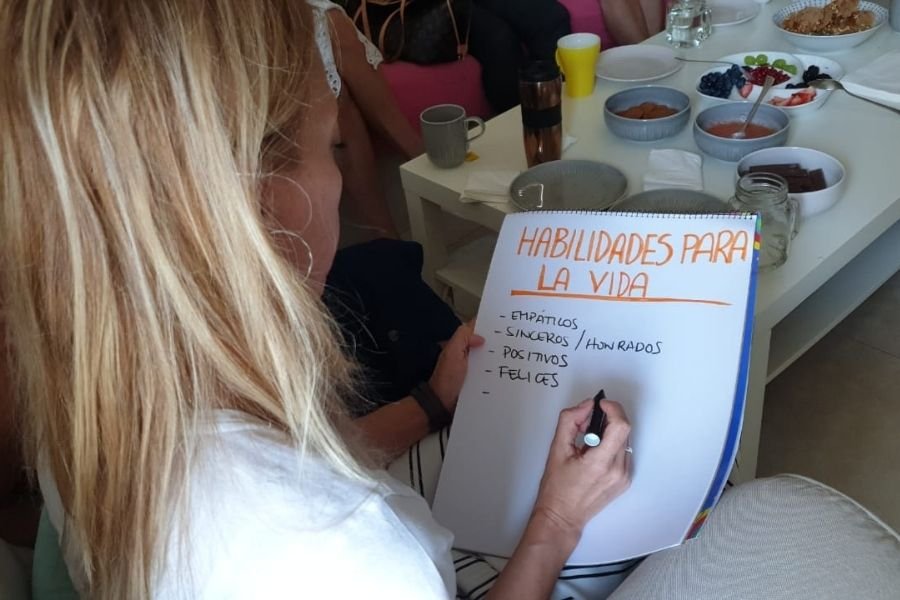 CRISTINA VALERA
We also enjoyed the demo of Cristina Valera from @foodiegourmets and her passion for healthy cooking. This time she brought her Thermomix and prepared in front of us delicious nut and raisin bread and carrot hummus that were so finger-licking good!!! It was my first time seeing the Thermomix in action and I fell in love. It is amazing how easy it is to cook following the instructions and the never-ending list of recipes for every taste and occasion.
I never imagined it could be so eco-friendly. For example, as you can cook in different levels at the same time you can reduce the energy. Another feature I loved was the fact that if you wanted to use a particular ingredient or ingredients (like that end of week fridges that require an effort with your imagination to complete a meal or when it is apple season and you have a pair of trees in your garden), you can look for recipes using those ingredients and have so many creative ideas as inspiration. It is great for planning the whole week's meals as you can plan the recipes ahead of time and it will even give you the shopping list. You only need to go to the supermarket and get the materials.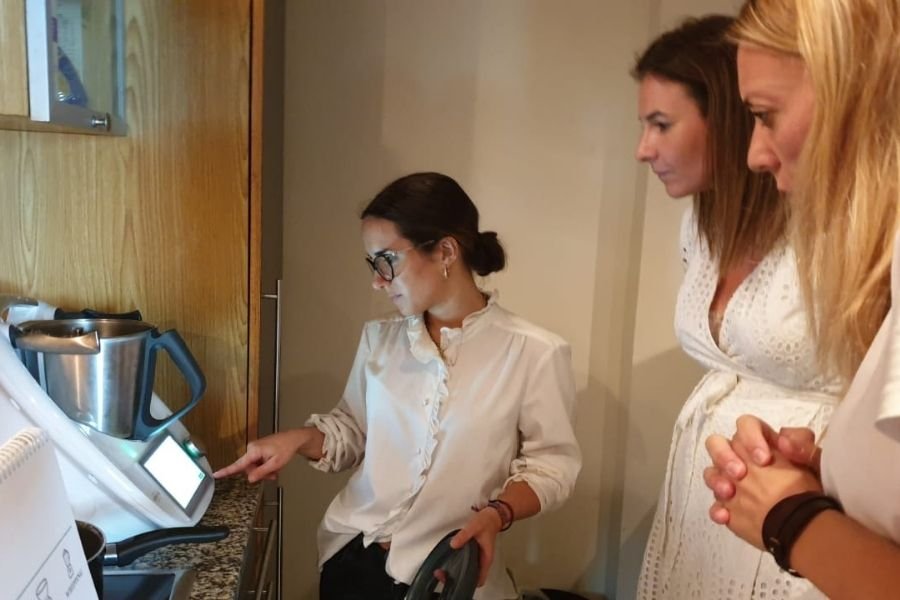 ARACELI GALLEGO
As the organizer, I also got to speak about my passion: sustainable fashion and sustainable living. I shared how we can implement strategies in our daily lives that can reduce our environmental impact. We spoke about the Cora Ball and the Guppy bag, we explained the stories behind our clothes or our accessories and what makes them so special. We spoke about our 3 S's: Slow, Sustainable, and Socially Responsible fashion. There is a whole new world behind the glamour and bling of the fast fashion industry.  I truly believe fashion can and should be a force for good. A force to support the social and economical development of SME's and artisans. A force to provide for the people taking care of the Earth- our farmers- and for the people creating our garments. There is a Revolution coming, a Fashion Revolution indeed and you are invited!
We will be doing more sessions of the School of Happiness after the summer. So stay tuned and join our newsletter to be in the loop!
LIKED THIS ARTICLE?
Then for sure, you will love these…