Have you ever checked the tag on your clothes where it says, 'Made in [insert country here]'? Ever given it a second thought? An important conversation happening in the fashion industry right now is that of how brands are producing the clothes and the conditions that workers work under.
In 2013, a commercial building in Bangladesh called Rana Plaza collapsed, killing 1,138 people. A lot of those people were garment factory workers, mostly women, who toiled for years in an unsafe environment. A response to the tragedy came in the form of the creation of Fashion Revolution. A non-profit global movement that campaigns for reforms in the fashion industry focused on transparency by clothing brands about their supply chain. Their mission states that they want to unite people and organizations to work together towards radically changing the way our clothes are sourced, produced and consumed. They advocate that collaborating from farmer to consumer is the only way to transform the industry. Fashion Revolution created the hashtag you are seeing everywhere asking Who made my clothes?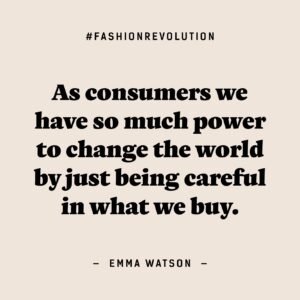 FASHION REVOLUTION WEEK AND #WHOMADEMYCLOTHES
Fashion Revolution has garnered millions of supporters over time. Every year, the week of the anniversary of the terrible collapse – April 23 to April 28 – is Fashion Revolution Week. This week we hold multiple events in many countries all over the world and ask the question, 'Who made my clothes?' to brands. This is us calling them to be transparent with their consumers and being fair to their entire supply chain. Events range from pop-ups to swap parties, panel discussions to workshops. Year on year, during Fashion Week the hashtag #whomademyclothes trends #1 Worldwide on Twitter.
Before the hashtag, Fashion Revolution used to ask their followers to wear our clothes inside out, showing the labels, to give presence and voice to all those "Made in Bangladesh", "Made in Vietnam", "Made in somewhere where there is cheap labor". But it was not getting as viral and as visual as the use of the hashtag. We need to thank social media for the virality and exposure given to the movement.
And guess what, all your posts are working! More and more manufacturers are taking steps to make factories safer, and providing their workers fairer pay in better working conditions. We are still far from the ideal situation of course, but we should definitely celebrate what we've achieved so far! According to the movement's Fashion Transparency Index, there was a 5% increase in transparency across ninety-eight brands in 2018. It might seem like a small number, but we are on the road to progress.
ARE YOU IN?
I am doing my bit by trying to buy long-lasting pieces and from brands who are socially responsible. You too can join Fashion Revolution or Remake – another non-profit that has a similar mission as Fashion Revolution and adds the facts that most garment workers are female and need tools, knowledge, and confidence to raise their voices. Behind these movements, there is a realization that the environment – and not only civil society- is suffering and our choices are very powerful.
Anyone can be a Fashion Revolutionary, just like anyone can take a more ethical route and still be stylish without supporting the big fast fashion multinational corporations.  The Fashion Revolution website even includes a page with a step-by-step guide on How to Be a Fashion Revolutionary!
Remake also has Ambassadors, which we, the team at Goshopia.com, are very proud to be part of. They assist you with education about the matter at hand and how to create events and raise awareness. Once every month we have a call with all the ambassadors around the world and we share ideas and findings. They have done some cool documentaries that we would love you to see. Like this one called "Made in Mexico".
Now it is your turn. Are you going to ask Who made your clothes? Print down the poster here and give the brands you love some feedback about what is important for you. Remake uses also another beautiful hashtag #wearyourvalues. You will see it in plenty of our pics. By the way, don't forget to follow us in social media. Our Instagram is @goshopia_official.
LIKED THIS ARTICLE?
Then you might be interested in How to Quit Fast Fashion and embrace a more conscious closet or How to Edit your closet Marie Kondo style! If you want us to write or research about a particular topic, let us know in the comments.
Be Happy!