Fácil Blanco Dubai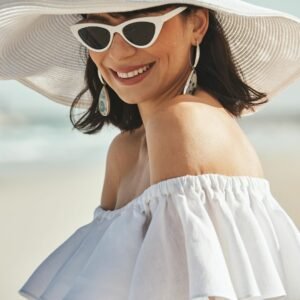 The masterminds behind this brand are two lovers for everything natural and slow fashion. Michael and Julie traveled the world until they landed in Dubai and decided to call it home.
Fácil Blanco Dubai designs are an ode to classic beauty with flattering tailoring and timeless style. The name comes from the Spanish words Fácil (meaning Easy) and Blanco (White). They only use Italian linen of the highest quality to create statement pieces that are the epitome of freedom and hi- lifestyle. Think Ibiza, think Miami, think a beach party at the French Riviera, think a cozy get together with close friends at a yacht… That is Fácil Blanco Dubai´s inspiration. Simply uber stylish summer pieces that are cool to wear, environmentally friendly and easy to care for. The finishing of their pieces are fantastic and you can rest assured they have been sewn to last.
Michael and Julie embrace the slow fashion movement. Their pieces are all done one by one in Dubai. They are also part of the Sustainable fashion movement as they use only pure linen and made garments that are built to last.
No products were found matching your selection.