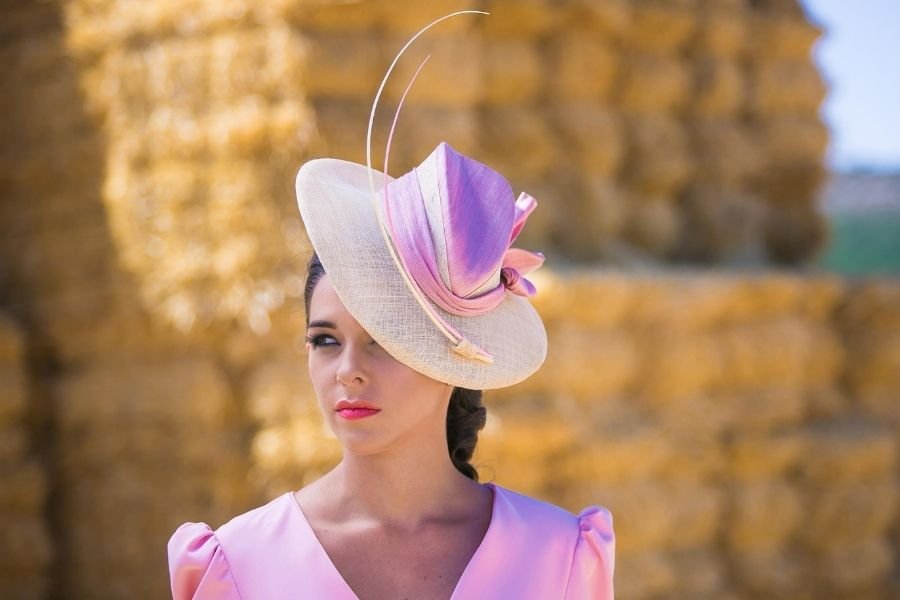 Today is International Hat day and we thought that it is about time to write an article about this iconic accessory. Back in the day, men and women wore it on a daily. It served as protection from the sun, and to symbolize status. Now it is a special piece for special occasions: weddings, high-end gatherings, and events like the horse races. Also, as in Dubai, we get to enjoy the Dubai World Cup every year it is always great to talk about the fantastic hats, fascinators, turbans, and headpieces you could wear. That is the reason why we decided to pay tribute to our headpieces. Because they are gorgeous but they can also be slow, sustainable, and socially responsible!
We got to ask some questions to our Goshopia resident milliner: Ines Montesinos. Based in Spain, creating amazing hats and fascinators have been in her family for generations. She helps us understand better what materials and work are behind each of her pieces.
After that, we share with you some very unique turbans you can wear too to have a unique look. Are you ready to turn heads? We are for sure!
THE INTERVIEW: INES MONTESINOS MILLINERY
Ines, How long have you been making hats?
As a company, Montesinos Vilar was founded more than 10 years ago, in 2010. But this is a family tradition business. In 1900, María Dolores Ruiz Echevarría -our great-great-grandmother- created her hat shop in Paris. Her legacy of style and savoir-faire continues today with her great-great-granddaughters.
How did you learn millinery?
The art of millinery is something innate in us. Since we were little we have made hair ornaments for friends and for ourselves. It was part of our games. Over time and in a very organic way we considered doing some training.
During the training, you discover that the only thing your heart asks of you is to experiment with textures, pigments, fabrics … I guess it is the benefit of being self-taught growing up using trial and error. For us, it is total happiness to get in the flow and start creating. Time flies for us while creating between iron plates and silks. You feel that your soul is linked with love and respect to this beautiful and creative craft that our great-great-grandmother gave us.
Her teachings live on and we keep on learning and exploring every day. We feel like apprentices with the same illusion as the first day. In our workshop, we continue to work with the same traditional millinery techniques with which our great-great-grandmother worked. Even some of our tools are inherited from her Paris shop such as the iron plates.
SUSTAINABLE HAT MAKING
What materials do you normally use?
The materials we use are natural fibers such as sinamay. It is a very fine fabric that comes from the abaca, pita, and banana fiber. It can be mixed with silk or cotton and it is originally from the Philippines. We also use Capelina from Panama, woven made by textile artisans in the Equator.
The pigments we use are mostly from plants (from leaves, stems, fruits, and also roots).
Are your hats unique pieces?
Montesinos Vilar Millinery creates an annual collection, but we also do customizations and even create designs from scratch upon demand. We have clients who like to combine for example the wing of a particular pamela hat, the cup of another, and the ornament of another, so they create their own design.
Also, some clients show us their desired look (dress, shoe, bag …) and we create a hat that will go and complement the rest of the style.
How can we take care of the pieces, once purchased?
Hats are delicate. For the pieces to last over time they must be properly stored in their box, wrapped in silk paper. Inside the box, we always add a Laurel leaf as it is a natural moth repellent. By doing this, your hat will be enjoyed for generations to come.
If the hat or headpiece suffers any deformity, you can contact our workshop and we will advise you what to make for your specific piece.
AMAZING TURBANS TO WEAR AND IMPRESS
Turbans are also headpieces we love. Not only because they are part of our heritage but also because they look so good and are so elegant! Check these we have selected from our luxury edition. Aren't they lovely?
Liked this article?
Then for sure, you will also enjoy reading these…
SPOTTED: OUR KIMONO & NECKLACE ARE AT THE DUBAI EXPO 2020 AD!
COCONUT, COFFEE & RICE WATER FOR PERFECT HAIR