Vera Sukhinina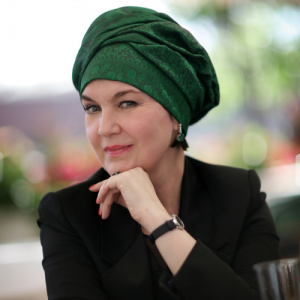 Vera Sukhinina is one of a kind. A woman that is able to built fabric sculptures with her hands. She plays with volume masterfully to create her stunning headpieces.
She recently won the "Chapeau Moscow 2018" and is set to develop her brand internationally. She is part of the slow fashion movement and produces every piece in her small atelier close to the Red Square in Moscow. Every piece is handmade using premium class fabrics and embellishments such as feathers, Swarovski crystals, natural stones or pearls.
Her stylish turbans designs come mostly from a historical inspiration. Vera studied the transition from the Art Deco headwear with Paul Poiret or Coco Chanel to the hats and turbans of the '50s and '60s of couturiers such as Dior, Balenciaga or Yves Saint Laurent. With all that knowledge she started creating her own unique luxurious pieces.
Vera Sukhinina signature Transformers turbans allow many possibilities to style them: with or without the bow, frontside, backside or sideways. Endless options for you to play with.
Please note that per hygienic reasons, Vera Sukhinina doesn't accept returns on any of her headwear.