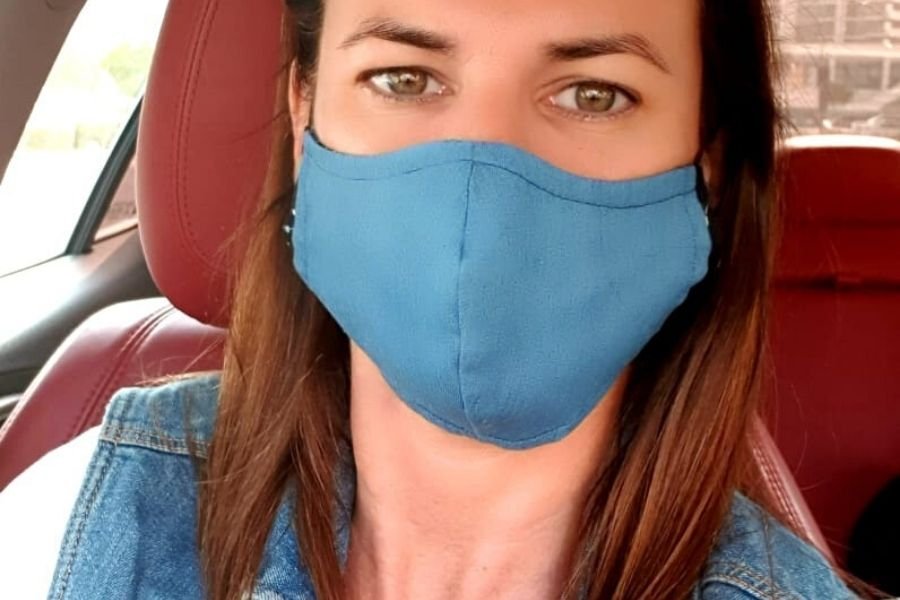 Coronavirus has put in place some new habits like washing hands thoroughly, social distancing and wearing a face mask. We all need to exercise proper caution and act as the tight, caring community we are – at least in Dubai. Selfishness has no space here. The only way to stop COVID is by all being responsible.
This pandemic has shown us how interconnected we are. Much more than what we thought we might. I remember those initial days when reporters talked about this weird virus in China… and it seemed so far away, yet in no time it spread all over the world. It is scary and it hides a lot of lessons for us as earthlings.
LESSONS LEARNT
We all saw how nature and even some animals came back to the cities and villages, how pollution decreased, how the air seemed better and we could enjoy the blue sky through our windows. At that moment, maybe at the apocalyptic sight of empty cities, we all pledged to be better citizens and take better care of Mama Earth. The whole pandemic seemed to be a call to action.
Yet now, when humans are starting to get back to normal life, we are seeing rivers and oceans full of gloves and masks. It breaks my heart. Haven't we learnt anything? Disposable masks and gloves need to be properly disposed of, otherwise, they can help spread the virus and on top of that, they add pollution to the equation.
Fabric Face masks seemed to be a good alternative. They are not throwaway products and you are to keep them and reuse them. But are all face masks effective?
FABRIC FACE MASKS VS MEDICAL MASKS – WHICH MASK SHOULD WE WEAR?
When we think of medical masks the most protective one is the N95. It blocks 97% when worn correctly. But N95s are expensive and require special training to fit properly. They are also limited in supply, so should be reserved for doctors, nurses and hospital staff.
After the N95, we have the surgical mask. They are single-use and block around 62-65% of particles. These masks because of their disposable nature and their popularity are the ones that mean a high risk of pollution and contamination if they are not properly disposed of.
SO…
The cloth face mask might be the alternative. You might think they are only pretty but actually the CDC (Centers for Disease Control and Prevention) and the WHO (World Health Organization) recommend that people use fabric face masks to protect against Covid-19.
But not all face masks are the same. A study showed that some fabric masks achieved 79% filtration as compared to surgical masks (62% to 65%) and N95 masks (97%). But other masks filtered as little as 1%. The best-performing masks were constructed of two layers of high-quality, heavyweight cotton, and those with an especially tight weave and thicker thread. A double-layer mask with a simple cotton outer layer and an inner layer of flannel also performed well. The inferior performers consisted of single-layer masks with light fabric.
If the fabric face mask has a pocket –like ours– to insert a surgical mask, then they are more protective than the surgical masks, as it has the best of both worlds.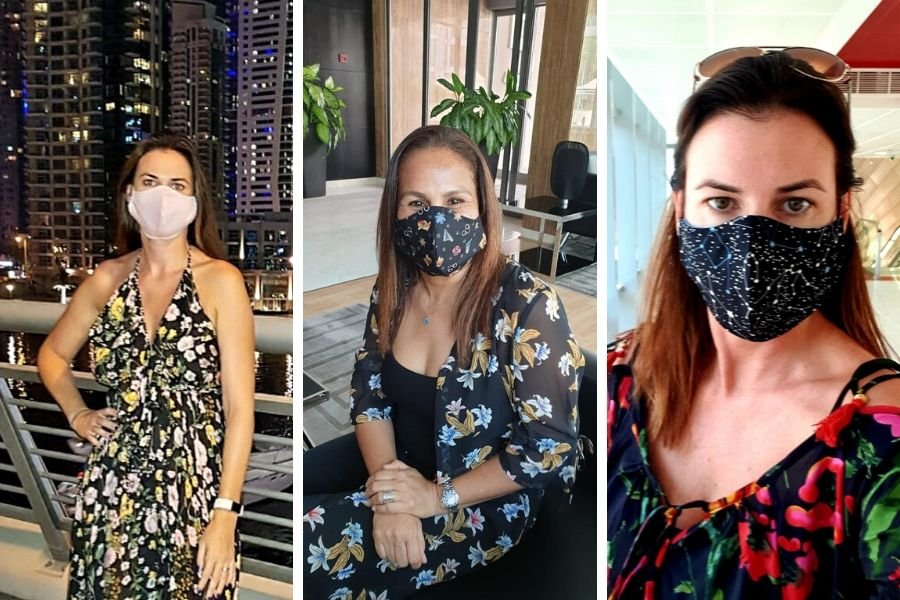 From Goshopia we wanted to help stop the pollution and contamination so we started using our own face mask that together with designer friend Aleli, we have improved over and over to make it safer, better and more comfortable for all family members including the little ones.
Mind you, they are not medical masks. They are fabric face masks. They are adjustable, reversible, washable, have a pocket to add a filter and come in different fabrics to chose from. To have them fitting properly we have 4 sizes. Due to the nature of the product, they can not be refunded or exchanged.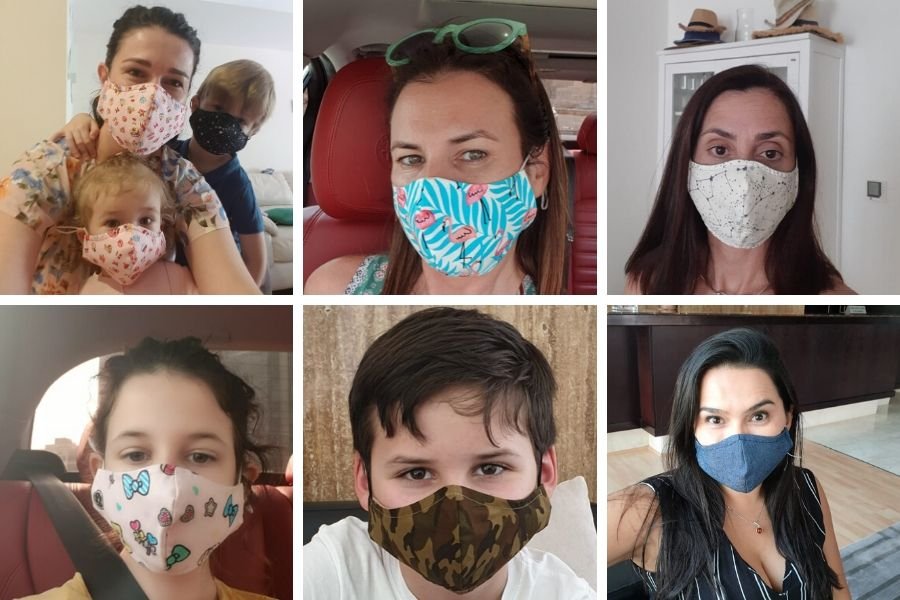 CHILDREN WEARING MASKS
As you might know, masks are now not compulsory for children under six and as a mum, I do not recommend you put them in very small babies that might not be able to remove the mask themselves or children that might have breathing difficulties. Check your paediatrician to know what would need to be required in those cases.
Children, I am afraid, are not immune to corona, but they seem to have milder symptoms or even be totally asymptomatic. That does not mean that they can not transmit it, and it is as contagious as if the virus is on an adult. That is why doctors say children should wear a mask to help stop COVID. But let us face it, some children might not tolerate the mask, so parents get creative. In my case, we have a "Mama and me" masks. We go matchy-matchy and she likes that.
Other ways to make it fun is to have a mask for their favourite stuffed animal and show with them how to put and remove safely the mask. You can also have fun prints on the masks. In our case, they can select what print they might like more. You can show them pictures of other children wearing masks or draw one over their preferred book character.
If you decide not to use a mask for your children, then ensure they are at least 2 meters away from other people at all times and do not touch surfaces, play equipment etc.
HOW TO USE AND TAKE CARE OF FABRIC FACE MASKS
Once the mask is on try not to touch it or touch your face.
Masks should fit well, cover the nose and mouth securely and stretch from ear to ear.
When at home, remove from behind and avoid touching the outer surface which is potentially contaminated.
Wash face masks after each use.
Keep it in a safe place while eating, driving or when not using it.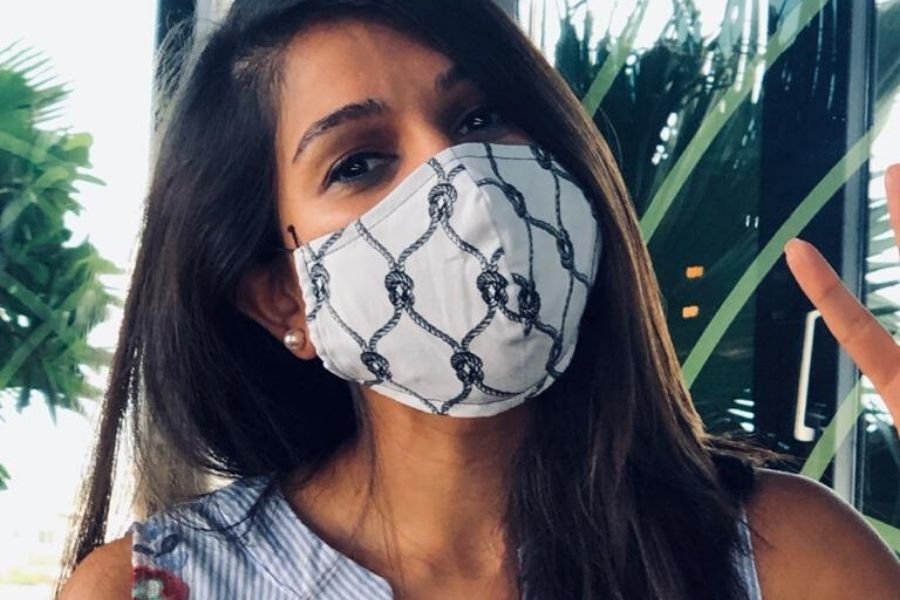 WHAT DO WE NEED TO LOOK FOR IN A FABRIC MASK?
Following what the CDC said, make sure the mask is thick enough. How can you check? Hold the mask against the light and see if you can see through. Below we list what we consider is important when buying a face mask.
Allow for breathing without restriction.
It must fit snugly but comfortably.
Be secured with ties or ear loops – ours have soft ear loops that you can adjust with a bead.
Have multiple layers of fabric- ours are 3-ply.
Be able to be washed and dried without damage or change to shape.
Have the possibility to add a filter for added extra protection.
Still do not forget they are not medical. If you are sick, have to be around sick people or need to visit high-risk places such as hospitals etc… always use the medical ones.
Stay Safe,
Araceli